Membership & Competition Structure
 Membership Structure
We recognise that everyone joins our sport for a different reason and that not everyone intends to compete at the highest level of the sport.
Whether you're a volunteer, official, owner, coach or you just like to compete at the lower levels of the sport with your horse and friends, we want to ensure there are appropriate categories for everyone.
There are six national membership categories that will accommodate everyone.  These being:
| | |
| --- | --- |
| INDIVIDUALS | GROUPS |
| Competitor | Clubs |
| Participant | Sport Affiliate |
| Supporter | Commercial |
| Recreational |   |
Competitor membership is for those who participate in the competitive environment of the sport. You can compete at all levels of the sport, register a horse and obtain competition licences across all disciplines. You also have voting rights for Board & Sport committee elections and AGMs (you must be over 18 years to vote) 
Participant membership is available to those who actively participate and contribute to grassroots and recreational equestrian sport activities, those wanting to take advantage of the insurance; or those interested in EA and want to be kept up to date with newsletters etc.  You can compete in any 'below the line" activity, register a horse and you have voting rights for Board & Sport committee elections and AGMs (if over 18).
Supporter membership is available to those that contribute to the competitive environment of equestrian sport but do not participate in competitions, such as officials, owners or non-competing coaches and volunteers. You have a significant contribution to the sport and give back to the sport. You have voting rights for Board elections and AGMS.
Junior Competitive Members (aged 10-18) are able to apply for the Competitive EA/PCA Dual Junior Membership Refund of $50.00 ($25.00 for pro-rata renewals). To be eligible for the refund you must be a current member of Pony Club. You must provide us with a copy of your 2017 PCA receipt, or a copy of your PCA membership card and your credit card details. The refund will then be processed.
Recreational members are those who enjoy riding a horse in equestrian activities for pleasure, riding out or may be a member of an equestrian club. A Recreational member may have had limited association with EQ in the past and could be a member of an equestrian club that is outside of the seven EA sports and could participate at events within the closed club environment. The Equestrian Queensland Recreational member will now be able to ride with safety of 24/7 insurance.
Club affiliation is available to incorporated clubs that provide services to their members support development of equestrian across the country.
Commercial affiliation is available to businesses or groups which align with EA to access EA services for a commercial benefit; people wanting to register horses in the name of their company or family name.  However, anyone competing the horse officially will need to be a financial member in their own right.
Sport affiliation is available to any Equestrian groups which affiliate for the purpose of equestrian sport delivery i.e. Show Societies.
For most individuals the level of membership required depends on your planned or current involvement in specific discipline/s. If you are unsure of which category is best for you this table helps making that decision a little easier.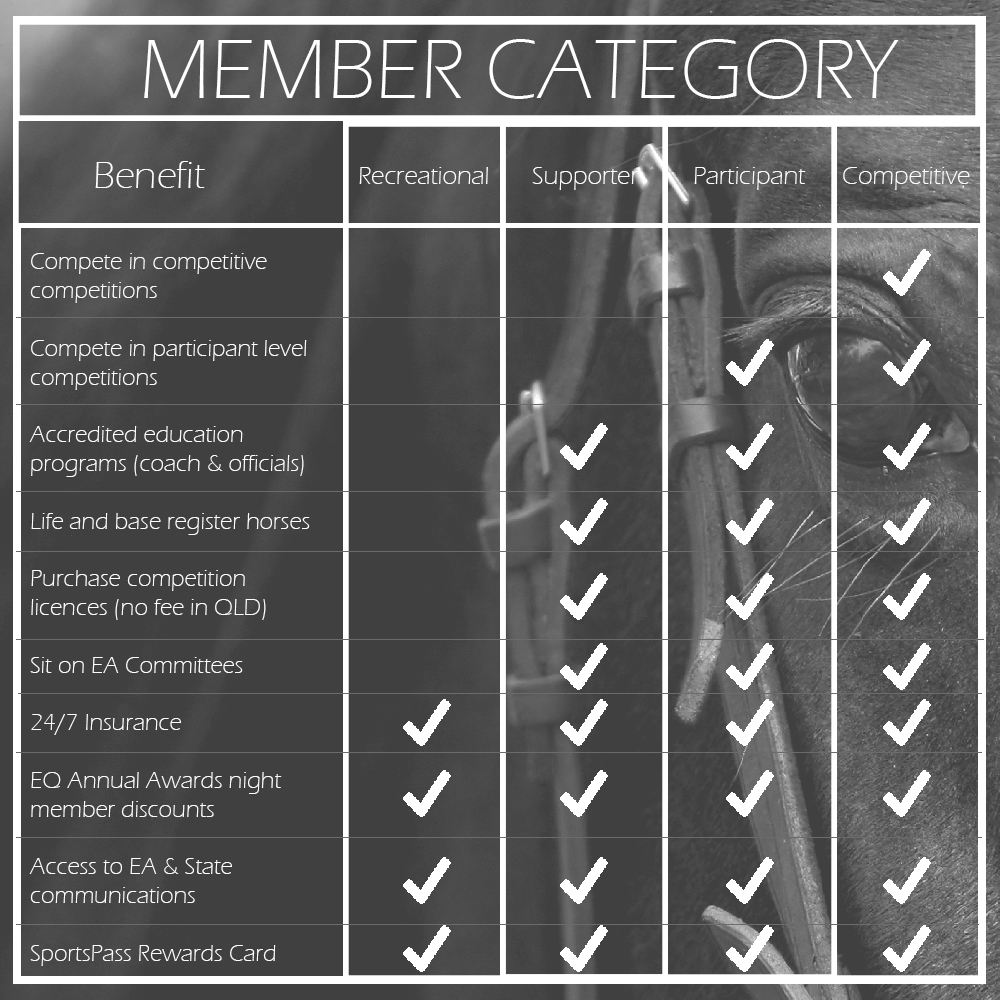 Competition Structure
There are a number of different categories of competitions that affiliated clubs can hold. These include:
Closed Events: club activities for club members to compete against other members of the same club. Clubs may invite EQ members to participate in these activities, however they may choose to allow their club members only.
Participant Events: EQ Participant & Competitor members may compete at these events in 'below the line' classes. No grading points are acquired for horses in these events, and EA horse registration is not required. Many EQ affiliated clubs will hold Club & Participant events, where both club members and EQ Participant & Competitor members may compete.
Competitive or Official Events: these are official events that acquire grading points for horses. Only EQ Competitor members may enter these classes, and horses must be EA registered, all registered owners of the horse must hold current membership and the horse must have the relevant performance cards.