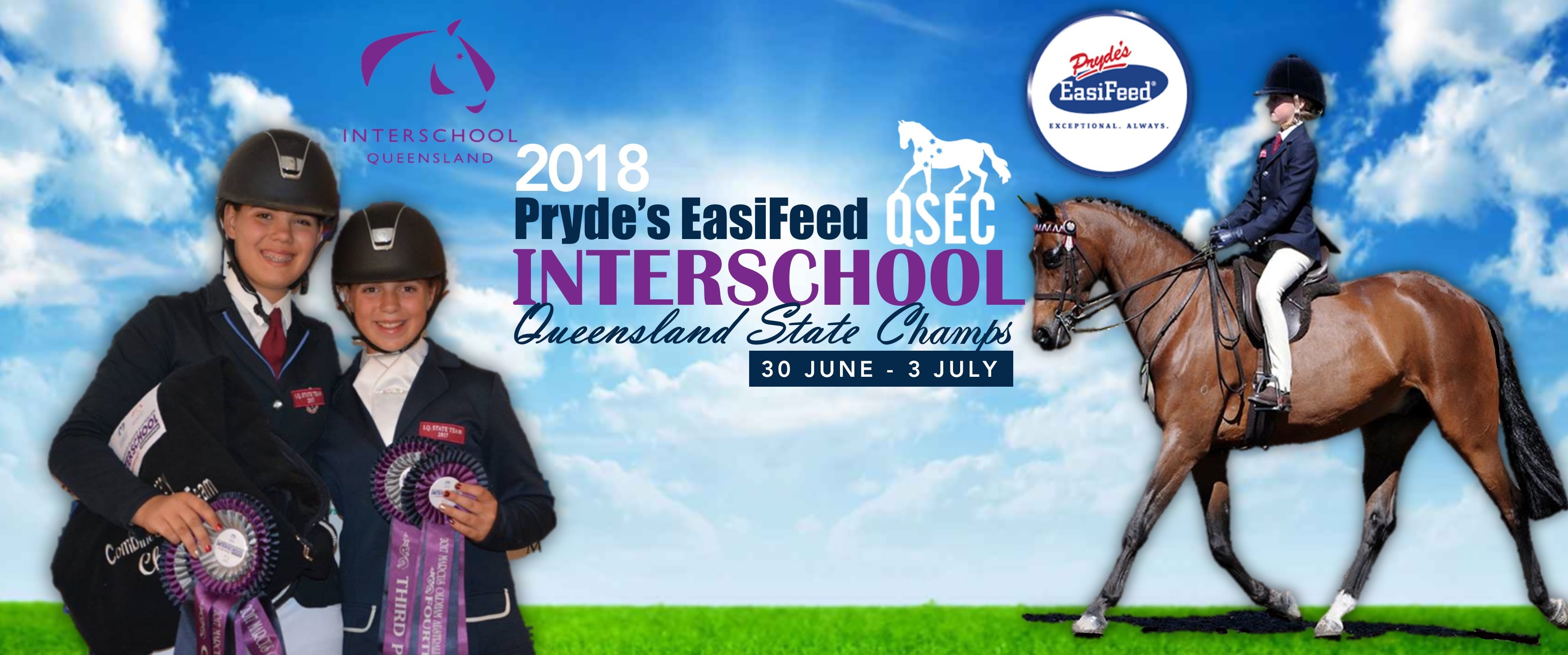 Pryde's EasiFeed Interschool Qld State Championships - Wrap Up
110 Queensland Schools attended the 2018 Pryde's EasiFeed Interschool Queensland State Championships held at QSEC, Caboolture 30 June - 3 July. 
This year saw a change in venue with the IQ State Champs being held at QSEC in Caboolture for the first time, with 540 entries from Riders all across Queensland! 

The level of performances and the presentation of horses and riders at this year's event was outstanding. There were many riders competing at their first of many IQ State Champs, however sadly over fifty Year 12 riders were at their last. We wish them farewell & good luck with their future equestrian endeavours.  

Congratulations to those riders now qualified for the Australian Interschool National Championships. They will be travelling to Werribee, VIC in just 3 months! 
Thank you to the Interschool Queensland Committee, sponsors, volunteers, spectators and everyone involved in another wonderful event.  Everyone had a fantastic time, especially on the mechanical racehorse and the inflatable factory on Sunday night was a hit!
Thank you to Vaulting Qld for their demonstration on Monday night. It gave Interschool Qld Riders an insight into a different equestrian sport, with some lucky IQ competitors having the opportunity to give Vaulting a try!  We look forward to having Vaulting as a part of the IQ State Championships competition in 2019!
Good luck to all riders and schools now competing at the Pryde's EasiFeed Interschool Qld State Eventing & Combined Training Championships being held at Warwick, Morgan Park on 14 - 15 July.
Equestrian Queensland and Interschool Queensland would like to thank Pryde's EasiFeed for your continued sponsorship of the Championship series.
Official Photography by OzShotz 
Congratulations to all riders and the following Champion Riders and Schools -
DRESSAGE IQ STATE CHAMPIONS
PRIMARY
Preliminary Champion 
Mikayla Symonds  |  BEVANLEE ASTRONOMER
Novice Champion
Mikayla Symonds  |  BEVANLEE ASTRONOMER
SECONDARY
Intermediate Prelim Champion
Brooke Boland  |  CHERENTON GALILEO
Senior Prelim Champion
Lyla Sampson  |  CASSILIS PARK FIGARO
Intermediate Novice Champion
Danielle Mcmahon  |  REMI LAURIES JOY
Senior Novice Champion
Emily Ballard  |  SAN CHURO
Elementary Champion
Sabrina Hitch  |  DICAVALLI DANDY
Medium Champion
Lucy Alati  |  CJP HIS LORDSHIP
Advanced Champion
Freya Domrow  |  EMMAVILLE DECOY
Prix St Georges - Inter I Champion
Holly Wickham  |  KINNORDY GYRON
JUMPING IQ STATE CHAMPIONS 
PRIMARY
50cm Champion
Isabella Ostwald  |  COCO COCO 
60cm Champion
Charlotte Ostwald  |  KINGS GINA
70cm Champion 
Connor Lane  |  ROSEAGLE EARLY
80cm Champion 
Lily Thatcher  |  RICH GLEN FRECKLED Q
SECONDARY 
70cm Champion
Zac Goodall  |  AEROWHON PARK REMINGTON
80cm Champion
Holly Sturgess  |  JESTER STURGESS
90cm Champion
Tayla Wallace  |  BARLOW PARK TOO EASY
100cm Champion
Holly Tomkins  |  PRINCESS ANNIE
110cm Champion
Holly Tomkins  |  JAYBEE CABARET
120cm Champion
Phoebe Riordan  |  ANOTHER CONQUEST
SHOW HORSE IQ STATE CHAMPIONS 
PRIMARY 
Hack Champion
Darby Humphreys  |  DRUMEDEN MUSICIAN
Hunter Champion 
Blake Goodall  |  BORDERSHOW KISMET
Working Hunter Champion 
Morgan Lyall  |  ELRAY ALL SAINT
SECONDARY
Hack Champion
Kimberley Webb  |  SILKWOOD PLAYBOY
Hunter Champion
Kayla Webb  |  LARUNDEL GEISHA
Working Hunter Champion
Sabrina Hitch  |  DICAVALLI DANDY


SHOWMAN IQ STATE CHAMPIONS 
PRIMARY
4-Phase Champion (45cm)
Morgan Lyall  |  ELRAY ALL SAINT
3-Phase Champion 
Blake Goodall  |  BORDERSHOW KISMET
SECONDARY
4-Phase Champion (45cm)
Madison Clarke  |  MIMSICAL
4-Phase Champion (60cm)
Freya Kenny  |  SALIX MATSUDANA
4-Phase Champion (85cm)
Emily Ballard  |  CELTIC GILLIGAN
3-Phase Champion 
William Kropp  |  ALPHA CENTAURI (SHC)


IQ STATE CHAMPION SCHOOLS
Primary Show Jumping Champion Team 
St Stephen's Primary School Pittsworth
Riders - Charlotte Ostwald, Isabella Ostwald & Josephine Ostwald
Secondary Show Jumping Champion Team
Fairholme College
Riders - Phoebe Riordan, Becky Gillan, Bronte Rigney & Amilia Schooley
Secondary Showman Champion Team
The Glennie School 
Riders - Sarah Coggan, Emma Massey, Holly Hurst & Shelby Emmerton
Primary Show Horse Champion Team
Emmaus College 
Riders - Eshli Denysenko, Taylah Noy &  Mitchell Cooper
Secondary Show Horse Team
The Glennie School
Riders - Shelby Emmerton, Keeleigh Wise & Emma Massey
Secondary Dressage Team
Stuartholme School 
Riders - Emily Ballard, Piper Searle, Ellie Turnbull & Bella Anthony