Grading System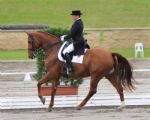 Kaz Roe and "For Joy"
The Grading System
IF YOU'VE GOT QUESTIONS, WE HAVE THE ANSWERS!
There is now a questions and answers sheet to help you.
From Lesley Sullivan, Chair Australian Dressage Committee:
"Unfortunately the new grading system will not be implemented on 1/7/10 as planned. You will re-call that we did say that the new system was subject to the EA data base system being able to handle it.
The National Office is in the process of overhauling the whole IT system and the grading system is caught up in this process.
We did initially say that the 1/7/10 date was subject to the data base being ready for it which apparently it is not.
Also there is a  concern about not having enough time for the required training of personnel in the new system.
Grant Baldock (CEO) has advised that EA will be working towards an implementation date of 1/12/10.
Because of the delay  in the implementation of the new grading system the ADC has agreed that an 'amnesty' on the accruing of grading points will apply to horses, the same as it currently does for ponies, effective from 1/7/10 until such time as the new grading system is implemented. Riders will still be required to keep a record of their performances for qualification purposes. In addition all horse results need to continue to be entered on the National data base but without accruing any grading points.
The reason for the above is due to the fact that there are many, many riders who have planned their competition programme around the implementation date of 1/7/10 in order to keep their horses at their current level. Another added bonus is the fact that all horses and ponies now know what their grading will be. So will the Branches and they can then work on getting new performance cards out to the riders/owners before the implementation date."
Click here for Questions and Answers (click here).