EQ Leaderboard
About the EQ Leaderboard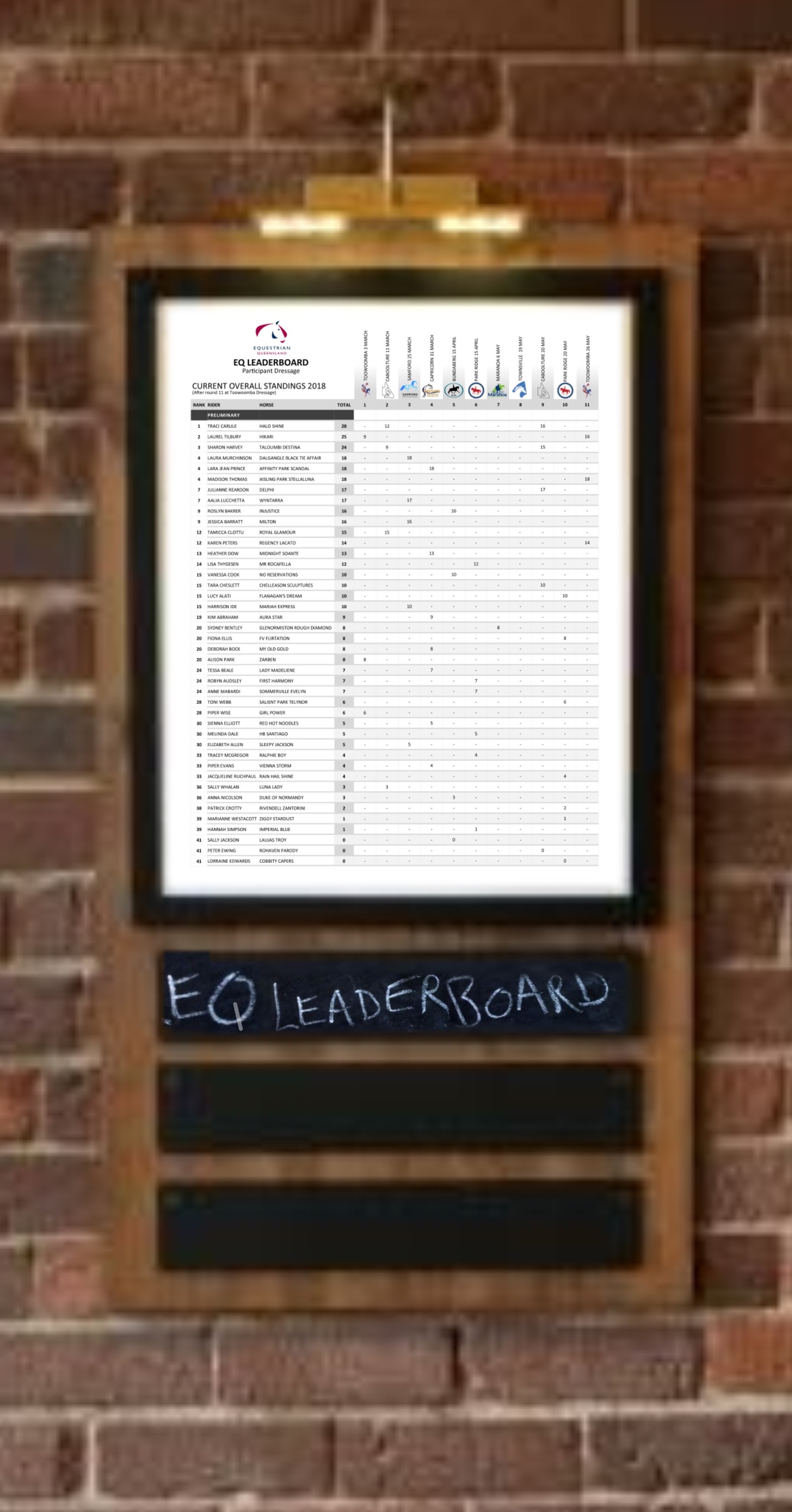 The Equestrian Queensland (EQ) Leaderboard is an initiative introduced in 2017 to encourage participation of grassroots level riders and to increase support of participant level classes and EQ Affiliated Clubs in the disciplines of Dressage, Jumping & Eventing.
The response to the leaderboard in 2018 exceeded EQ's expectations with more than 36 dressage events, 12 jumping events and 12 eventing events, tripling the size of the leaderboard. There were some small changes for 2019 in the number of events each affiliated club can have on the leaderboard to ensure all clubs have an equal opportunity to host leaderboard events. 
In 2019 33 clubs held eligible events for the EQ Leaderboard with 36 dressage events, 13 jumping events and 16 eventing events.
During 2021, there were a total of 25 Dressage events, 17 Jumping events and 12 Eventing events for the EQ Leaderboard
There has been increased support and participant from our Affiliated Clubs and members for the EQ Leaderboard initiative. To ensure there is fairness and that the spirit of the EQ Leaderboard remains, there have been some changes to the EQ Leaderboard criteria for 2022*. We will endeavour to continue to ensure growth and development across all the three disciplines and work to ensure the Leaderboard remains a success.  
Leaderboards
There are several awards within the EQ Leaderboard:
Participant awards for each level within each discipline
Interclub Challenge award: across the disciplines of Dressage, Jumping and Eventing to recognise the club that has had club members participating across all disciplines in the participant leaderboard
2022 EQ Leaderboard Criteria & Eligibility
2022 EQ Leaderboard Criteria & Eligibility Information
Eligible Events
Expressions of Interest for EQ Affiliated Clubs wishing to be part of the 2022 EQ Leaderboard are now open!
If your club is running participant level classes in either Dressage, Jumping or Eventing and would like to include EQ Leaderboard classes please click on the link below to apply.
Please read the criteria carefully as there have been changes made for 2022.
Club events are to be submitted by 28 February 2022.
2022 EQ Leaderboard Club Event Nominations - NOW CLOSED
2022 EQ Leaderboard Calendar
2022 EQ Leaderboard Calendar - Updated 27 September
2022 EQ Leaderboard - Interclub Challenge
The Interclub Challenge recognises clubs that have had members participating in the EQ Leaderboard across all disciplines of Dressage, Jumping and Eventing (the 4 highest scoring horse/rider combinations who are club members across the different disciplines will form the team, with the 3 best scores to count).
Team members must meet the eligibility criteria for the EQ Leaderboard. Participants are required to nominate which club they are representing.
 2022 EQ Leaderboard Interclub Challenge Registration
2022 EQ Leaderboard Current Standings
Previous Overall Standings
2021 EQ Leaderboard
Dressage
Jumping
Eventing
Preparatory
40-50cm

EvQ45
Preliminary
60-70cm
EvQ60/65
Novice

80-90cm

EvA80
Interclub Challenge

We would like to thank you for your patience whilst we worked through an error picked up within the EQ Leaderboard - Interclub Challenge final results.

Upon correction, Tamborine Equestrian Group (TEG), Samford Equestrian Group (SEG) and Warwick Horse Trials (WHT) were all equal in first place with a total of 25 points.

The club with the highest combined individual points (3 best scores to count) were then deemed the overall Champions.

Congratulations to the following Interclub Challenge Clubs and Team Members - 

Champion Club

TAMBORINE EQUESTRIAN GROUP (TEG) – 205 points

Laura-Grace Nicholls

Kylie Shearer

Amiee Stevens 

Reserve Champion Club

SAMFORD EQUESTRIAN GROUP (SEG) – 196 points

Alexis Gascoyne

Catherine Troyahn

Colin Hatch 

Third Overall Club

WARWICK HORSE TRIALS (WHT) – 189 points

Donna Fisher

Hanaka Parker

Geneva Searle
If you have any questions about the EQ Leaderboard please email [email protected]