EQ Leaderboard
About the EQ Leaderboard
The Equestrian Queensland (EQ) Leaderboard is an initiative introduced in 2017 to encourage participation of grassroots level riders and to increase support of participant level classes and EQ Affiliated Clubs in the disciplines of Dressage, Jumping & Eventing.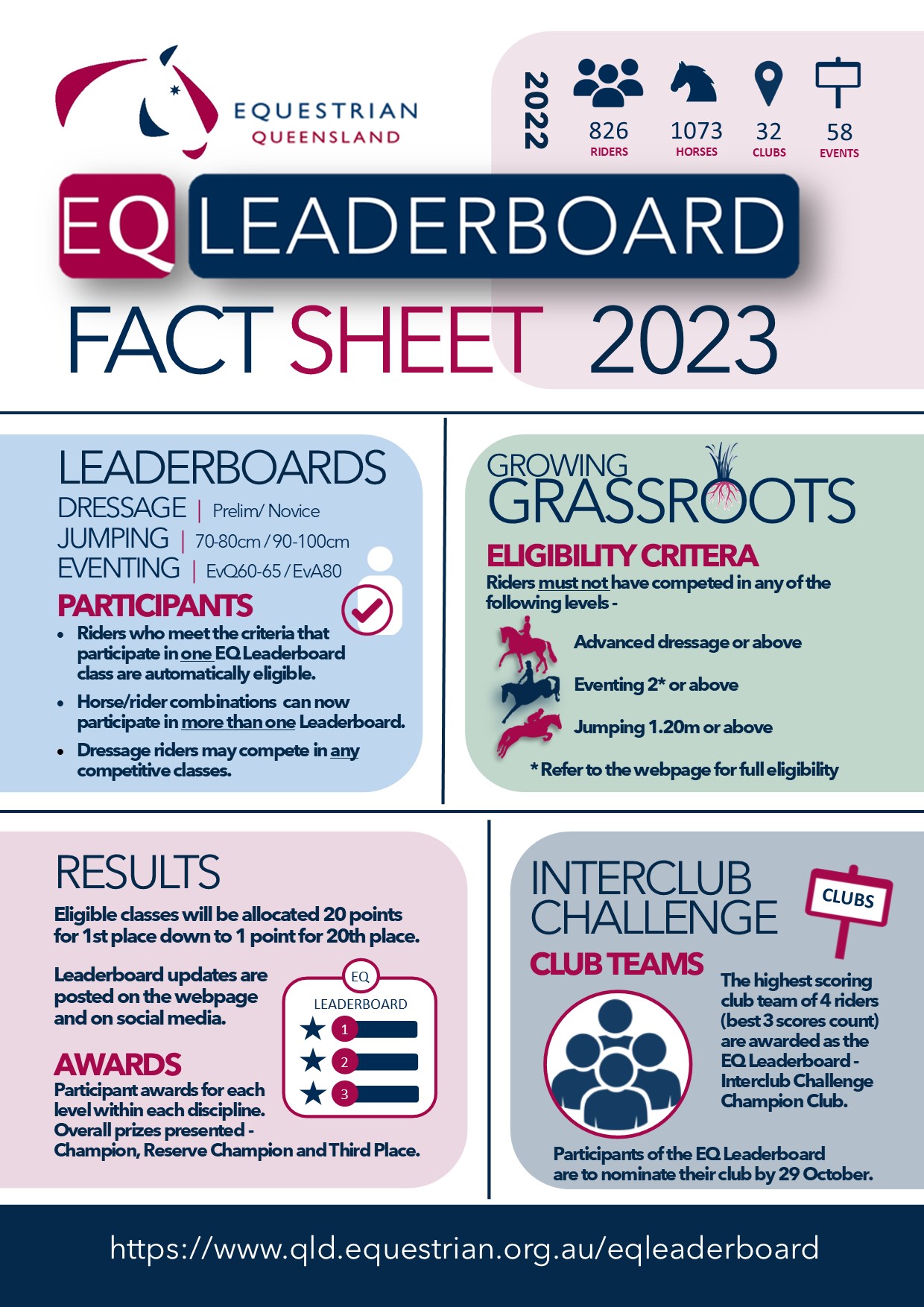 The response to the leaderboard in 2018 exceeded EQ's expectations with more than 36 dressage events, 12 jumping events and 12 eventing events, tripling the size of the leaderboard. There were some small changes for 2019 in the number of events each affiliated club can have on the leaderboard to ensure all clubs have an equal opportunity to host leaderboard events.     
In 2019, 33 clubs held eligible events for the EQ Leaderboard with 36 dressage events, 13 jumping events and 16 eventing events.
During 2021, there were a total of 25 Dressage events, 17 Jumping events and 12 Eventing events for the EQ Leaderboard
Whilst the events in 2022 were significantly reduced due to the rain, 28 clubs continued to hold events that included classes for the EQ Leaderboard, which were comprised of 12 for Jumping, 11 for Eventing and 23 events for Dressage.
There has been increased support and participant from our Affiliated Clubs and members for the EQ Leaderboard initiative. To ensure there is fairness and that the spirit of the EQ Leaderboard remains, there have been some changes to the EQ Leaderboard criteria for 2023*. We will endeavour to continue to ensure growth and development across all the three disciplines and work to ensure the Leaderboard remains a success.  
Leaderboards
There are several awards within the EQ Leaderboard:
Participant awards for each level within each discipline
Interclub Challenge award: across the disciplines of Dressage, Jumping and Eventing to recognise the club that has had club members participating across all disciplines in the participant leaderboard
2023 EQ Leaderboard Criteria & Eligibility
2023 EQ Leaderboard Criteria & Eligibility Information
2023 EQ Leaderboard Information for Affiliates 
General information for Affiliates that have nominated to hold EQ Leaderboard Classes. In 2023 we have two leaderboards in each discipline. Dressage - Prelim & Novice. Eventing - EvQ60/65 & EvA80. Jumping - 70-80cm & 90-100cm.
EQ Leaderboard General Information Booklet for Affiliates
 2023 EQ Leaderboard Calendar
 Nominations for the 2023 calendar are Closed. We have 29 clubs who have nominated to run classes across Dressage, Eventing and Jumping at 73 events across queensland.
 Reminder - the 2023 EQ Leaderboard calendar year runs for the period 1 January 2023 – 22 October 2023. Events cannot be rescheduled past 22 October. 
2023 EQ Leaderboard - Interclub Challenge
Equestrian Queensland runs an annual EQ 
Leaderboard -Interclub Challenge. This is to recognise clubs that have had members participating in the EQ Leaderboard across all disciplines of Dressage, Jumping and Eventing.
Do you have members competing in the EQ Leaderboard? Please encourage them to nominate to represent their club. 
The top four highest scoring nominated members, will become your Interclub Challenge Team for 2023.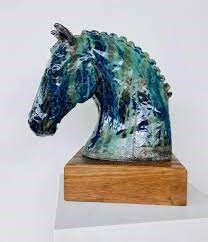 All nominated clubs will be vying for 2023 The Interclub Challenge Award. 
Team members must meet the eligibility criteria for the EQ Leaderboard. 
All nominations by riders wanting to represent their club, must be received by 29 October.
 2023 EQ Leaderboard Interclub Challenge Registration
2023 EQ Leaderboard Current Standings
Previous Overall Standings
If you have any questions about the EQ Leaderboard please email [email protected]