Membership - Competitor
Join Renew Back to Memberships
Membership

Membership

until 31 Dec 2022

Membership               

until 31 Jan 2023

Membership - Join/Lapsed Fee 

after 31 Jan 2023

Competitor - Senior                
$380
 $380
 $435
Competitor - Junior*
$250
 $250
 $250
All Senior members who join/renew after 31 January 2023 incur the $55.00 Joining/Lapsed Fee.. (Applicable to seniors 18+ only) 
Junior Competitive Members (aged 10-18) are able to apply for the Competitive EA/PCA Dual Junior Membership Refund of $50.00. To be eligible for the refund you must be a current member of Pony Club, provide us with a copy of your PCA receipt, or a copy of your PCA membership card and your credit card details, so the refund can then be processed.
What is a Competitor Member?
A Competitor member is permitted to compete at all levels of the sport being 'competitive' and 'participation' activity categories (see table below).
Benefits:
Participate in all levels of competition in the sport - from participation level to competitive
Participate in closed activities
EQ Competition licences (no additional cost in Qld)
Voting rights (18+ only)
Access to EA & EQ communications
Member loyalty offers
EQ Annual Awards night member discounts
Accredited education programs
Full Life Horse Registration
All Horses must be Full Life Registered for above the line, competitive classes in all disciplines and for the Interschool Qld State Championships (see table below).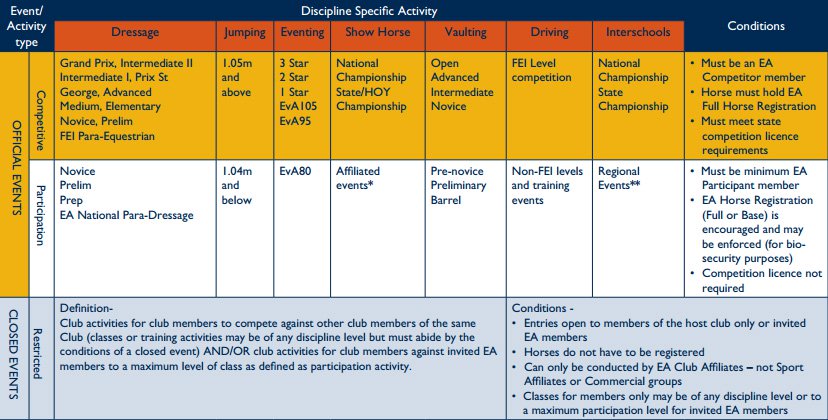 **In the State of QLD only, Interschool regional events from Rockhampton and North, only require an EA Participant membership. For the QLD State Interschools Championships and all other Interschool events in QLD, they are classified as Competitive activities and EA Junior Competitor membership is required for entry.
There are a number of different categories of competitions that affiliated clubs can hold. These include:
Closed Events: Club activities for club members to compete against other members of the same club. Clubs may invite EQ members to participate in these activities, however they may choose to allow their club members only.
Participant Events: EQ Participant & Competitor members may compete at these events in 'below the line' classes. No grading points are acquired for horses in these events, and EA horse registration is not required. Many EQ affiliated clubs will hold Club & Participant events, where both club members and EQ Participant & Competitor members may compete.
Competitive or Official Events: These are competitive events that acquire grading points for horses. Only EQ Competitor members may enter these classes, and horses must be EA life registered.  All registered owners of the horse must hold current membership and the horse must have the relevant performance cards.