2016 Qld State Vaulting Championships – Wrap Up
Our Qld State Vaulting Championships was held at Tallebudgera Pony Club on the Gold Coast on Saturday 24 and Sunday 25 September 2016.
The weather was mostly kind to us and after a few hiccups with arena set up, everyone pitched in and the competition was off to a great start.  The two days of competition saw a good turn-out from all our Qld & Northern NSW clubs. It was great to also welcome interstate competitors from Southern Highlands Vaulting Team, an International competitor from Germany and two interstate judges.  Sarah Venamore, NSW and Chris Wicks, ACT were joined by our Qld judge Angie Deeks.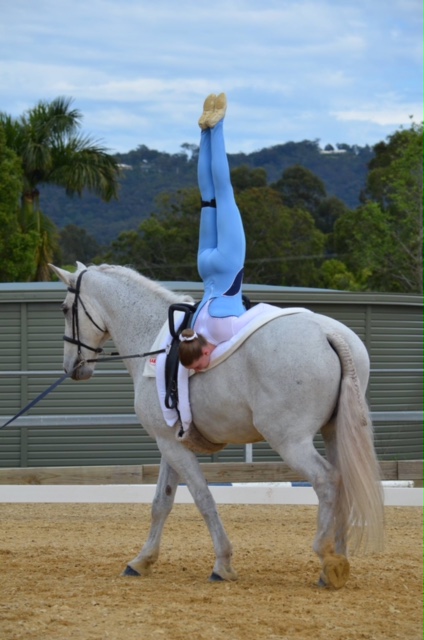 Over the weekend, we saw some wonderful team work from all participants, pit crews and officials, with many making the most of the Pony Club camping facilities and enjoying a Pizza and Movie Night together on Saturday night. We also enjoyed fabulous food and refreshments throughout the weekend, provided by the Tallebudgera Pony Club canteen.  Thank you Ladies for your special home-made treats and wonderful service.
Congratulations to all the Vaulters, Lungers, and Horses who competed at our State Vaulting Championships.
All our competitors celebrated some great results, with many personal best scores. Although there was a low key turnout of past champions, it was particularly impressive to see new horses, lungers and vaulters taking to the vaulting stage and gaining such great experience for the development of our sport.
Highlights of the competition from our clubs were: 
ELLA Springs "cleaned up" Preliminary Individual class with their 4 vaulters awarded 1st  Liana Toms, 2nd Charlotte Robison (first time competing on horse) 3rd Lucy Paul & 4th Lindsey White 3rd Walk Pas De Deux Liana Toms & Lucy Paul (first time competing a PDD on horse) on Cobbadah Pk Xena lunged by Wendy Mungomery.
3rd Prelim Barrel Pas De Deux
Kingfisher - 1st  PreNovice Individual – Lili Tamai ,  2nd Walk Pas De Deux - Shilah Morris & Lili Tamai on Sky King Samuel lunged by Emily Kleier
 1st Prelim Barrel Pas De Deux
Byron Bay Equestrian Centre –2nd Maleka Mitchell & 3rd Rachel Barlow Novice Individual on Springtime Park Rustic Stomp lunged by Tesse Ferguson
Rustic Park Stomp lunged by Tesse Ferguson - Judges Choice Encouragement Award for horse and lunger combination.
1st Open Barrel Pas De Deux, 1st Novice Barrel Pas De Deux.  2nd Prelim Barrel Pas De Deux.
Southern Highland Vaulting Team NSW -  Overall Competition Winner Bella Napthali – Highest Score 7.036 in Highest Level class.  Bella's first time competing at the Advanced Level on Eidelweiss Pierre lunged by Melanie Federick, 1st Walk Pas De Deux Bella Napthali & Claire Stevens on Sky King Samuel lunged by Emily Kleier
Fassifern Vaulting Club – 2nd  Advanced Individual Lucy Betts & Individual Qld State Champion,  1st Intermediate Individual Melissa Stone, 1st Open Pas De Deux Anna Betts & Lucy Betts & Qld State Champion Pas De Deux, 2nd Open Pas De Deux Jean Betts & Jazz Heckeroth all on Kamilaroi Cavalier lunged by Melanie Fedrick.  1st Novice Individual Jazz Heckeroth, 2nd Intermediate Individual Charlotte Lovelock, 3rd Intermediate Individual Abigail Bedford, 3rd Novice Pas De Deux Melissa Stone & Charlotte Lovelock on Edelweiss Pierre lunged by Melanie Federick State Champion Vaulting Horse & Lunger
RESULTS: 
Championship Awards.docx
ScoringQLDStates2016_Comp.xlsx
Thanks to Tallebudgera Pony Club committee for your facilities and wonderful support of our event.   A huge thank you to all the volunteers, organising committee, (most of which were also competing) spectators and everyone involved in making this successful event happen for another year.  
From all of us at Vaulting Queensland, we look forward to an exciting year of vaulting success and development in 2017.