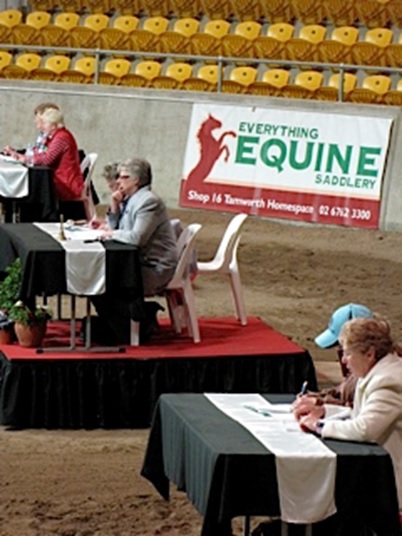 2014 Qld Dressage Judge of the Year
There are many reasons why people become judges; some of us become judges as a way of giving back to the sport, some love the sport and for whatever reasons can't ride anymore, some just want to be involved in the sport without the cost of running a dressage horse.
 Whatever the reason, as the "guardians of the sport", it is the responsibility of the dressage judge to help set standards, enhance the quality of dressage riding and to help riders and trainers by scoring and commenting on the marks.
 In recognition of the service that  judges give to the sport, the QLD Judges Sub Committee and Dressage QLD would like to announce the "Judge of the Year Award".
 To nominate who you think we a worthy recipient of the "Judge of the Year Award", competitors or an organising committee simply need to nominate a judge by the 31st of October 2014.
To assist in determining who to nominate the following criteria is provided. Final voting will be decided by a selection panel yet to be determined, by the 30th of November. Votes are restricted to one vote per e-mail address. The winner will be announced at the Dressage QLD Awards Night in December.
 Judge of the Year Criteria:
F to C level judges with a minimum 3 years active experience
Up to date with qualifications
High availability to all Dressage competitions – Club Days, Associate and Official
Consistency and relevance of marks
Service to self-development and/or development of further judges
Shows a desire and willingness to increase skill base and knowledge
Approachability and willingness to communicate with the DQJSC, fellow judges and riders for self-analysis 
E-mail to Karen Herald at [email protected] or Post to 962 Caboolture River Road, Rocksberg, QLD, 4506
Send the following information: 
 N

ame of Competitor/Committee        

 Name of Competition/s

 Name of Judge                                        

 Claims against the criteria