2019 REMI STUD SCHOLARSHIP WINNER
The winner of the Remi Stud Young Rider Scholarship 2019 was presented at the Brisbane CDI once again, and this year was awarded to Charlotte Stephens from Samford in Queensland!
Charlotte was awarded the Hanoverian colt, 'Remi Lauristinus S' by 'Lauries As' (imp) / 'Remi Fleurette' by 'Fishermans Friend' (imp)
AND a support package which includes feed from Pryde's EasiFeed, registration with Equestrian Queensland, marketing from Equestrian Australia and the Brisbane CDI, legal support from HorseForce, a saddle, bridle and saddlecloth from Edwards Saddleworld, 10 weeks training by Team Van Den Berge, show product from Dr Show, riding attire from Belrock Equestrian, Veterinary care from WestVETS Animal Hospital, registration and merchandise from the Hanoverian Horse Society of Australia, hoof care from Meaker Farrier Services, and transport by Manuel Equine Transport!
A total package valued at over $30,000.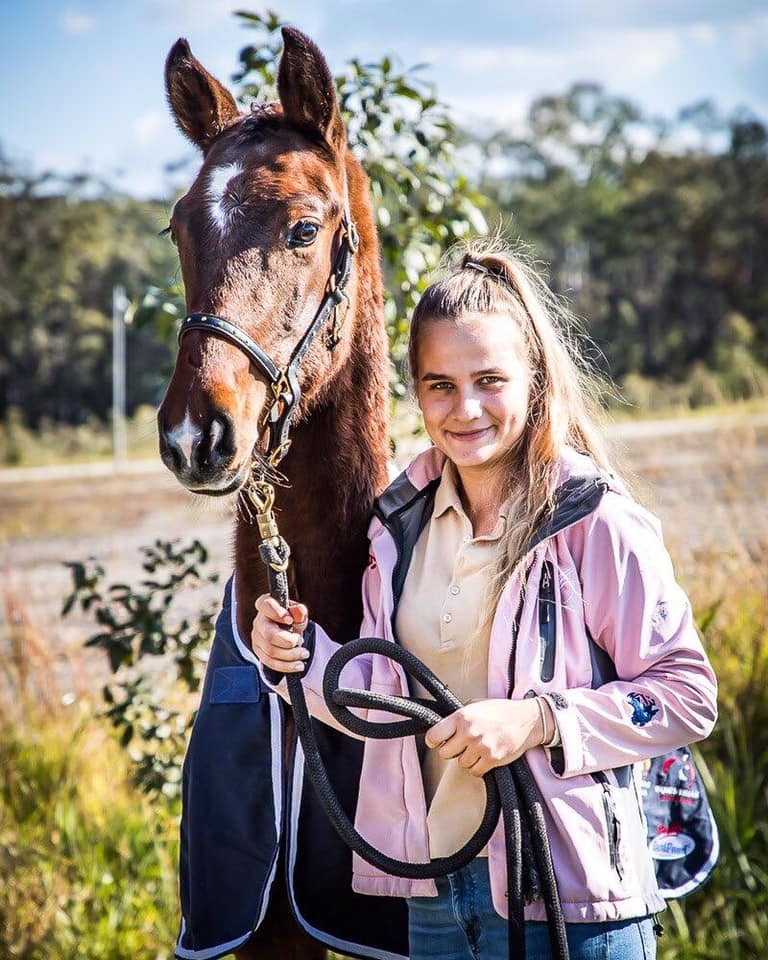 Charlotte's story begins with a comment that her mother (Kristel) made in her reference for the Scholarship Application, which is "If I could say that I have left my children a legacy, I would want it to be the legacy of resilience." 
And resilience is what the Stephens family certainly has!!
In the past couple of years, they have been confronted with many obstacles. Firstly, Kristel was diagnosed with breast cancer, not once, but twice, and only 3 months ago was diagnosed with a rare form of Leukaemia. Her brother was also the victim of a one punch attack. And then Charlotte fractured 3 discs in her spine and dislocated her tailbone following a schoolyard prank that went wrong. This required her to stand in class for 3 months, and then sit on a specially designed wedge cushion for another 3 months.
This obviously put horse-riding out of the question for over a year. And even when she finally got back in the saddle, Charlotte's love of showjumping and eventing wasn't achievable due to the nerve pain she endured when sitting back down in the saddle. Kristel said that Charlotte has been her tower of support during her chemo treatments, juggling Year 12 studies, her School Captain role, equestrian lessons, as well as being chief carer and morale booster for her Mum. She fits in housework, homework, horse feeding, and, being 17 years old with a license, has also had to drive her Mum to Emergency late at night when something goes wrong with Kristel's medications. Kristel said that she often feels their mother/daughter roles are reversed, but that one of her greatest pleasures is watching Charlotte ride.
And with Charlotte unable to show jump or event any more, her riding future was severely in doubt. However, horses are Charlotte's absolute passion and love, so Kristel encouraged her to shift her focus on to dressage. Unfortunately they only had Charlotte's 20 year old jumping horse, but following advice from her coach, Anjanette Harten, her parents mortgaged their home, and purchased an 18 year old, one eyed, Anglo Arab schoolmaster called Red (more formally known as Aloha Redeema), and Charlotte has been able to continue her equestrian journey.
She has taken to dressage like a duck to water, and following prompting from her other coach, Ruth White, she competed in the Qld Interschool Championships held at QSEC a couple of weeks ago, and not only won Reserve Medium Champion, but she also won the Medium Freestyle, plus an award for the most artistic freestyle scoring over 71%.
Charlotte's dream had always been to ride a freestyle, and it was one she designed herself from the internet! Charlotte selected her F/S pan pipes music as a special tribute to her Mum, who no doubt shed a tear when she heard it. There is no doubt Charlotte is a talented rider and a very strong and caring daughter.
So on one hand, we have Mum wanting Charlotte to continue with her riding dreams despite all the trials and tribulations the family has gone through in the past couple of years. And on the other hand, we have Charlotte who (in her own words) "would sincerely like to win this for my Mum. I would love the chance to thank Mum for always putting me first and showing me that life is about never giving up on a dream even in the darkest of moments".
Congratulations Charlotte and we wish you all the best for the future!
Words Credit: Cheryl O'Brien
Photo Credit: Stephen Mowbray Photography