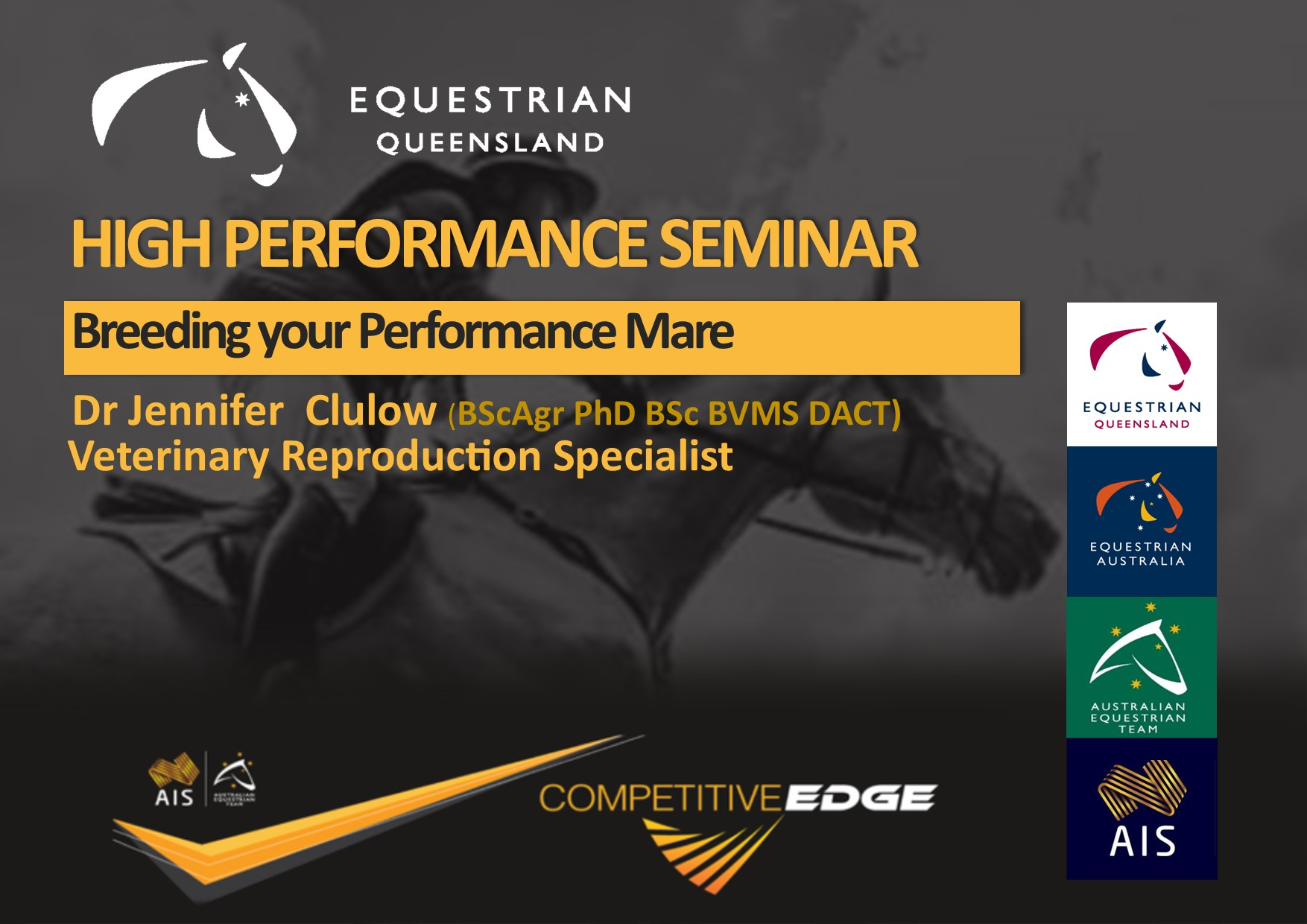 EA Competitive Edge Program - Breeding your Performance Mare
Equestrian Queensland members have the opportunity to register and participate in an online Zoom session for the EA Competitive Edge Program.  
What is Competitive Edge?

Competitive Edge has been designed by EA to deliver off-horse content that will focus on developing emerging talent with a view to sustain longevity and success at the highest level of sport. This particular session - Breeding your Performance Mare will be delivered by Dr Jennifer Clulow (BScAgr PhD BSc BVMS DACT).  Dr Jennifer Clulow has a PhD and is a Registered Specialist in Veterinary Reproduction and a Diplomate of the American College of Theriogenology.
Jen completed a degree in Agriculture followed by the study towards her PhD in Equine reproduction at the University of Sydney investigating sex preselection of stallion spermatozoa. Jen then completed a Bachelor of Veterinary Medicine and Surgery at Murdoch University.  She has undertaken a veterinary equine internship at Goulburn Valley Equine Hospital and residency training and research in equine reproduction at Charles Sturt University, Wagga Wagga. She joined the Scone Equine Group in 2014 working in their Denman, Scone, and Tamworth practices, managing the Tamworth facility between 2017-2019. Jen has also worked abroad in the United States at Hagyard Equine Medical in Kentucky and Colorado State University.  Jen has returned to Charles Sturt University in 2021 to take up a clinical teaching role at the Veterinary Clinical Centre.  Her clinical interests include all forms of equine assisted reproduction in the problem mare and stallion.
The session with be delivered online via the Zoom platform 7pm Tuesday 26 April, 2022. A Zoom link will be emailed out to you so that you can participate.
For any enquiries please email [email protected] or phone (07) 3891 6611