EQ Coaching Advisory Group Introductions
We are pleased to provide an introduction from the following Advisory Group members annouced in Sept, 2018 ...
Darryn Fedrick, Geraldine van Montfrans-Eady, Irene Bakels-Noreen, Sharyn Ross and Trudy Dougall.
Darryn Fedrick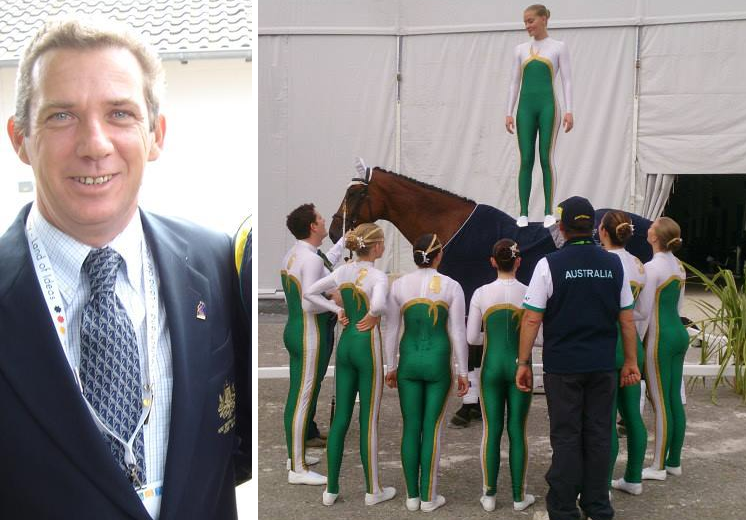 Darryn is an EA Level 2 Vaulting coach, EA coach educator, EA Level 3 Vaulting Judge, FEI 3* Vaulting judge and EA National Vaulting Chair.
I think that like many EA coaches I started out in the Pony Club system moving on to become a riding Instructor at several riding schools including Dalson Park and Somerset Equestrian Centre in Brisbane. I then travelled to USA and spent time coaching riding with the Camp organisations. In the early 90's more by accident than plan I became involved in the sport of Vaulting. At the time there was no accreditation system in Australia for Vaulting so I was lucky enough to be able to train in Germany and Austria to gain my German and Austrian Vaulting coaching accreditation. Since this time I have been actively involved in the sport of vaulting here in Australia at local, State, National and International levels. The highlight of my vaulting career so far has been to prepare and train my own Fassifern club team to represent Australia at the World equestrian Games in Normandy in 2014. I consider myself very lucky to have had many amazing adventures and met many amazing people through the sport of Vaulting.
Geraldine van Montfrans-Eady

Hi, I am Geraldine van Montfrans-Eady and have been selected to represent Queensland as one of 5 members in the CAG (Coaches Advisory Group). Over the last 30 plus years I have been an EA accredited coach starting as a Level 1 General then becoming a Level 2 Dressage specialist as well as a Coach Educator. My transition into coaching came from a competitive angle having trained and ridden to Grand Prix level. Together with my sister Jacqui we bred and trained our own young horses bringing them up through the levels. Starting with a riding school equipped with school horses we evolved to mainly coaching competitive riders of all disciplines.
My passion is to teach and coach not only riders but new coaches that share my love of the sport and especially the horse. To promote riders and coaches that excel at what they choose to become. Our aim as CAG is to help improve continued learning as coaches and have more support from experienced coaches to those starting out. The only way we can do this is to get the coaching community to become proactive with ideas, frustrations, updates mentoring possibilities and above all unity.
Hope to hear from you all soon.
Irene Bakels-Noreen

Irene Bakels-Noreen is a Level 2 dressage specialist, Coach educator, A – level Dressage Judge and Judge Educator, and Chair of Dressage Queensland Officials Committee.  Irene has been accredited and registered for many years and does teach overseas as well as here. I was a member of the NCAS Qld Committee as well the National NCAS Committee for some time before it was disbanded and I am happy to be part of the new CAG so that we can help riders, coach candidates and other coaches to improve and better the system and to keep safety our highest priority along with correct training of horse and rider.
Sharyn Ross

Hi, my name is Sharyn Ross and I am an EA Level 1 Coach and SSTA from the Lockyer Valley. I have been a coach since 2001 and an SSTA since their introduction in 2006. I also hold a BAppSc (Equine) and form part of the wonderful committee at Lockyer Equestrian Group, in my role as president. My main background is as a dressage rider and coach, but have recently started competing in showjumping, after a long absence. I also enjoy being involved in the eventing community, as a coach and owner. I am honoured to be part of the Queensland Coaching Advisory Group, and look forward to contributing to the evolution of the EA coaching accreditation pathways with my skills and knowledge, and making sure EA coaches remain the benchmark standard in the equestrian industry. 
Trudy Dougall

Trudy brings to the CAG thirty years experience in education and coaching. A mother to a passionate event rider who wants to have a career as a rider and coach she has a passion for developing good teachers and coaches and enjoys seeing her students achieve their goals.  Still an active rider she enjoys training and developing young horses. Trudy is a Level II General coach and Coach Educator and also holds her Trainer and Assessor certification in Vocational Education.  Together with her daughter they run Team Dougall.