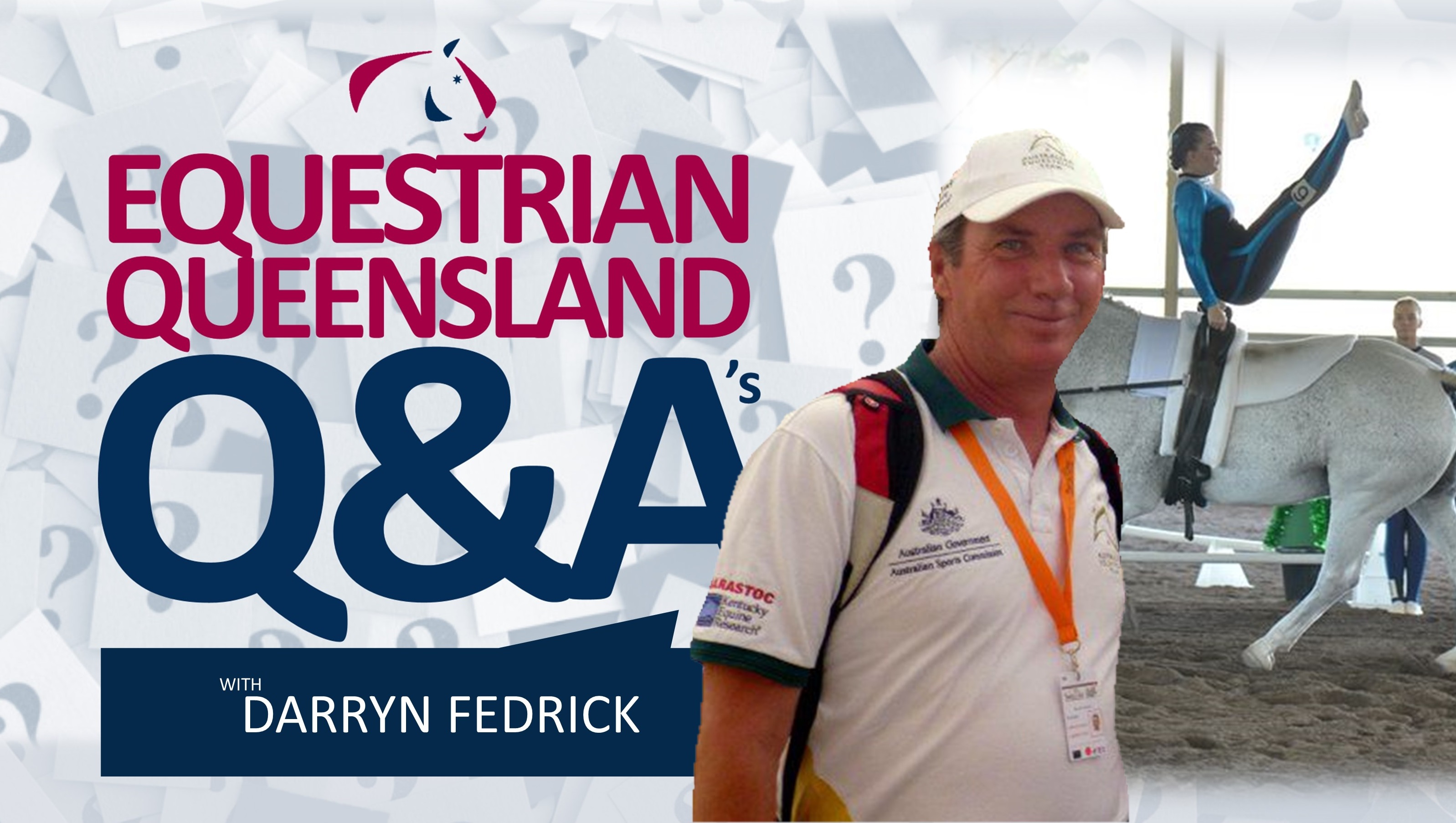 EQ Q&A's CONTINUE WITH DARRYN FEDRICK
Thank you to Clem Smith for presenting our previous EQ Q&A. Clem presented a video on the EQ Community Hub with information on 'How to introduce a horse to jumping''.
EQ QUESTION & ANSWER EDUCATIONAL SERIES
Continues with Darryn Fedrick!
For our next presenter of the EQ Q&A Educational Series, we would like to introduce Darryn Fedrick.
Darryn is an EA Level 2 Vaulting coach, EA coach educator, EA Level 3 Vaulting Judge, FEI 3* Vaulting judge and EA National Vaulting Chair.
Darryn will be presenting a video that will be published on the EQ Community Hub facebook group page in the coming week. We encourage members to vote on a topic/add a question in the poll of the facebook post or email [email protected]
TOPICS
Voting on topics will close, 4:30pm Friday 21 August 2020.
Darryn Fedrick
Like many EA coaches, Darryn started out in the Pony Club system moving on to become a riding Instructor at several riding schools including Dalson Park and Somerset Equestrian Centre in Brisbane. He then travelled to the USA and spent time coaching and riding with the Camp organisations. In the early 90's more by accident than plan, Darryn became involved in the sport of Vaulting. At the time there was no accreditation system in Australia for Vaulting and he was lucky enough to be able to train in Germany and Austria to gain his German and Austrian Vaulting coaching accreditation. Since then Darryn has been actively involved in the sport of vaulting here in Australia at local, State, National and International levels. The highlight of his vaulting career so far has been to prepare and train his own Fassifern club team to represent Australia at the World Equestrian Games in Normandy in 2014. Darryn considers himself very lucky to have had many amazing adventures and met many amazing people through the sport of Vaulting.
For more details, contact Darryn Fedrick on 0407 648 797 or email [email protected]. Follow Darryn and his vaulters via the Fassifern Vaulting facebook page.