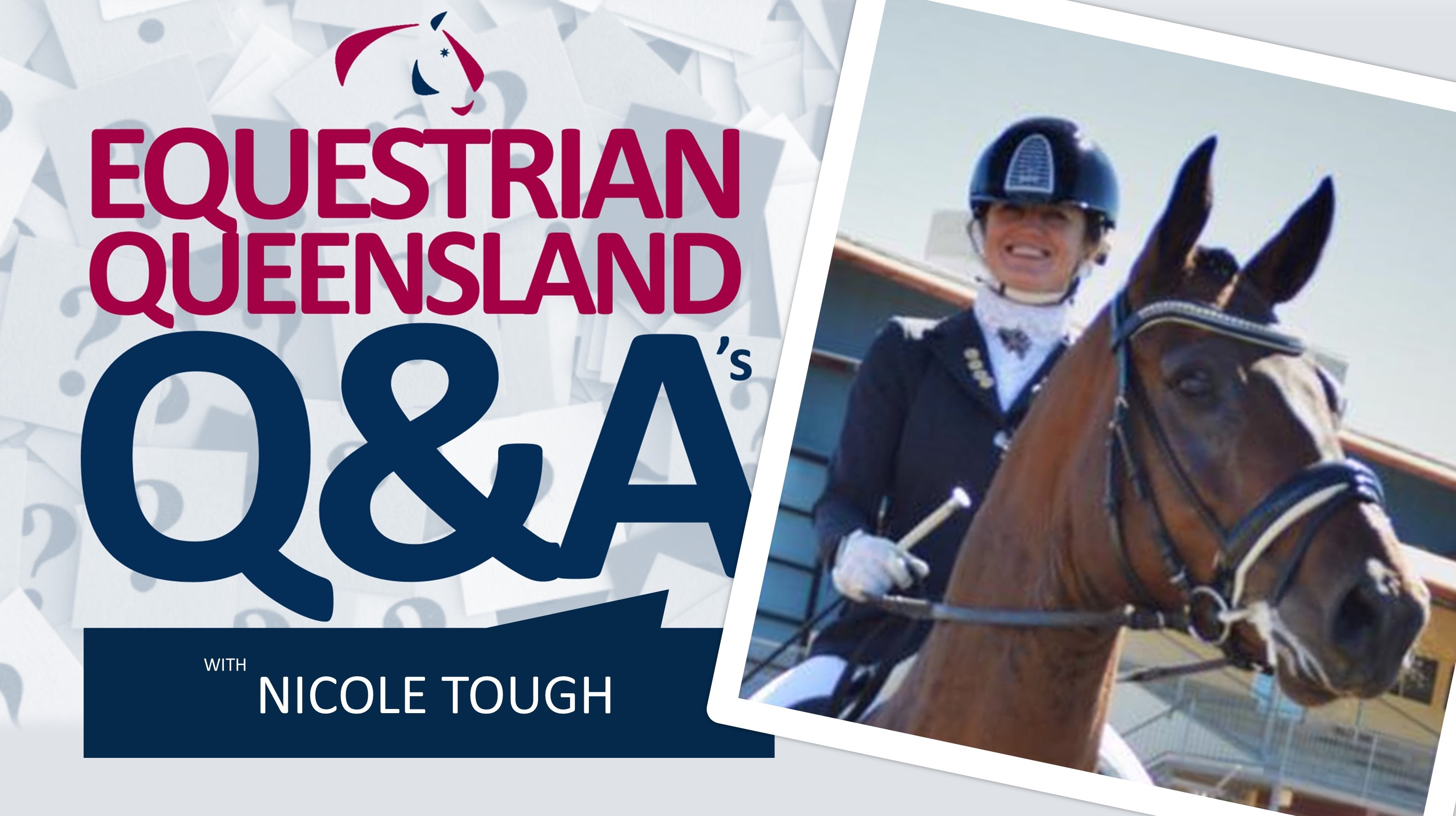 EQ Q&A's WITH NICOLE TOUGH
EQ QUESTION & ANSWER EDUCATIONAL SERIES
Continues with Nicole Tough!
Thank you to Georgia Taylor from Attwood Marshall Lawyers for presenting our previous EQ Q&A. Georgia presented a video on the EQ Community Hub with information on insurance, purchase and sale contracts and agistment contracts.

For our next presenter of the EQ Q&A Educational Series, we would like to introduce Nicole Tough. Nicole is an accredited Level 2 Dressage Specialist Coach, Level A National Grand Prix and Young Horse Judge and Judge Educator. 
Nicole will be presenting a video that will be published on the EQ Community Hub facebook group page in the coming week. We encourage members to add a question/topic or vote on a topic for Nicole in the poll of the facebook post or email [email protected]
TOPICS
Suggestions on topics will close, 4:30pm Friday 24 July 2020.
Nicole Tough 
Nicole is a highly successful competitor, having trained 9 horses to FEI level, with 8 Australian titles, over 28 State Championship titles to her credit, and has held 33 spots on State and National Squads since 1994. She has been awarded Equestrian QLD Coach of the Year, Sports Star of the Year and Volunteer of the Year. Nicole has helped many of her students train their horses from the breaking in stage through to FEI level, with many on State and National Squads and onto International representation. Nicole loves coaching, making a difference to riders and their horses.

Upon leaving school in 1989, Nicole went on to earn a Bachelor of Arts degree and a Graduate Diploma in Education, but chose to work within the Equine industry as a Dressage coach and trainer. As an addition, Nicole taught Equine Studies at Somerset College from 1999 to 2009.

Nicole is situated in the Gold Coast hinterland where she offers full livery agistment, private dressage coaching, dressage training and specialised "boot camps".
History of Riding

Where it all began...
Nicole's life long passion for mastering the art of dressage began at the age of 13, when her dad purchased a share in a racehorse with his friend and racehorse trainer, Noel Payne. Her dad and Noel then conspired to surprise Nicole with her very own horse -  a galloway of mixed breeding called "Cha Chi", on which Noel's son Terry a professional jockey, took the trouble to teach Nicole the basic riding skills.
Moving to the Gold Coast in 1984, Nicole and her sister Belinda joined the Mudgeeraba Pony Club. From here, Nicole went onto a (too slow) racehorse called "Rex Reebo" and then on to an anglo-arab called "Shar", who with coach, Leonie Galbraith, started her addiction to dressage! Nicole competed nearly every weekend at either gymkhana's, agricultural shows, eventing, showjumping, combined training, interschool and dressage days.
At the age of 16, Nicole won the QLD State Interschool senior Dressage Championship title and the 15-17 year National Dressage Championship title. Nicole thanks her wonderfully supportive parents for what she now sees as a life long obssession. To read more CLICK HERE.
To contact Nicole Tough, phone 0404 324 608 or visit the
Nicole Tough Dressage Team website
http://www.nicoletough.com.au/