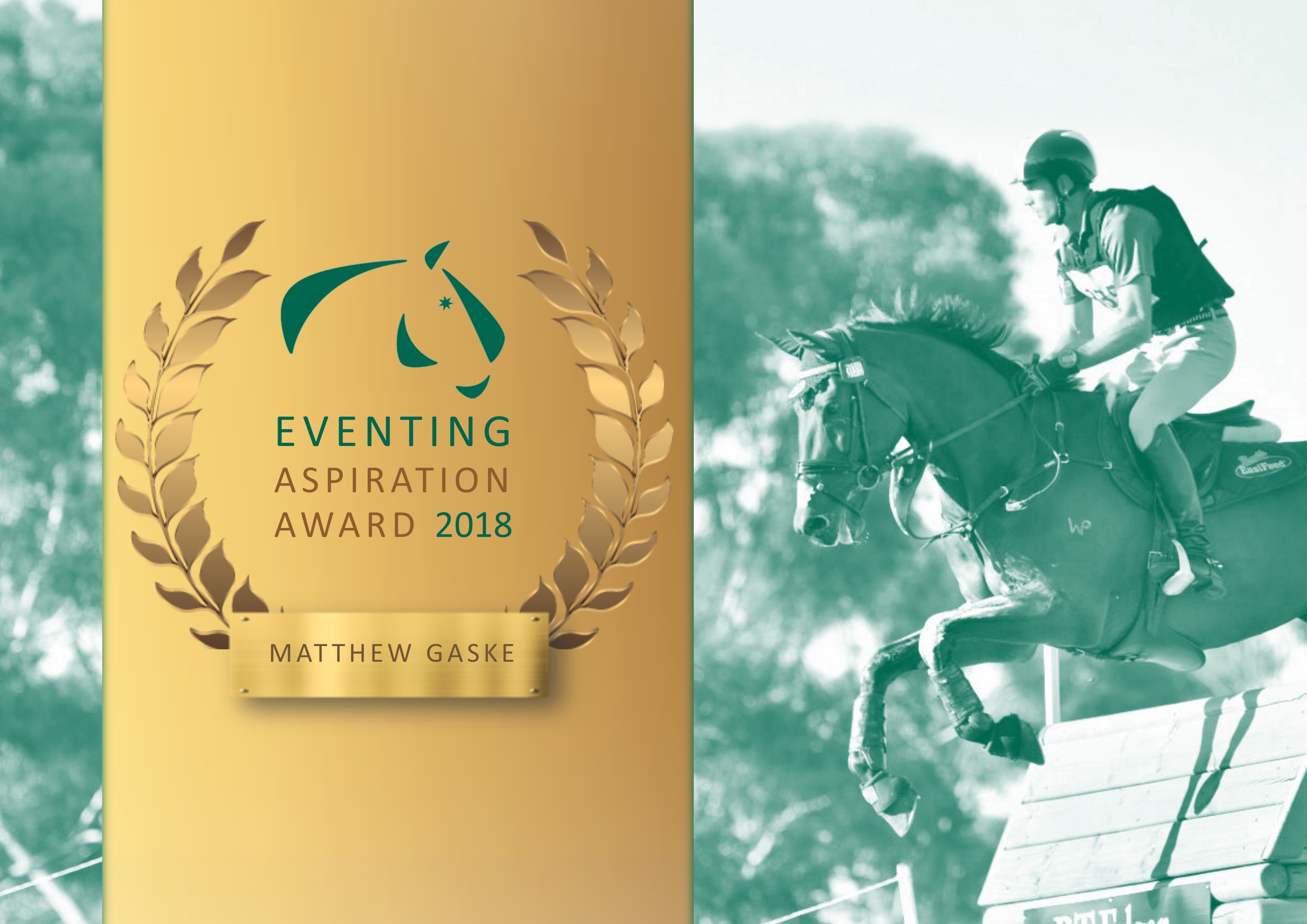 Eventing Aspiration Winner Matthew Gaske encourages Queensland riders to aspire to elite performance
"One minute", the starter calls. The last visualisation of the course quickly goes through my head, all of my senses are heightened...I feel every breath he takes beneath me, as his nostrils flair. He chews on the bit like it was the first time in his mouth and the reaction to my spur is instantaneous. The anticipation, calculations and strategies are set, my own heart rate has increased, still visualising, fence 12 & 13abc - galloping through the olive grove, sinking the weight into my heels and balancing him before jump 12, the trakener, (a massive ditch and hanging log) 8 strides to the very vertical skinny upright - keep short reins and even pressure on my legs, there is no room for error, one stride to the open coffin, two strides to the very skinny triple brush- on landing gallop away. 3rd minute marker just after that fence. Hope to be up on the clock.
"Thirty seconds"! - Only time now stands in the way of Thymes Too and me tackling the questions that Mike Etherington-Smith has asked of us.
"Fifteen"! - I walk in and out of the start box one last time trying to keep him calm and focused.
"Ten seconds"! - I hear the stern voice say. He knows as much as I do that we are at the business end of the wait. I start my watch and begin to focus, shorten my reins, place my leg firmly around the horse. His reactions tell me he is ready. Ears are forward and he awaits my every command. The last words I hear as I leave the start box is 3, 2, 1, GO! Good luck. The next 7 minutes galloping through Adelaide city, over some of the toughest fences in the sport rely on the endless hours of training and preparation put in over many years.
Eventing is a unique sport that tests every aspect of an athlete. It is unique and cannot even be compared with any other equestrian sport. The different skills and abilities of the horse and rider are tested with each phase, making perfection impossible. However, getting to the elite level of Eventing takes training, preparation and a focused mind.

Training is an everyday activity that takes time, discipline and dedication. "She'll be right mate" attitude doesn't cut it at fence 18ab, 2 angled logs that walks a long 1 stride. Instead both horse and rider must be able to draw upon the countless straightness training sessions that began with basic repetitive schooling over poles on the ground, a foundation skill, transferable to any jump, at any height. Training by definition means developing your skills and knowledge, which means that it must be multifaceted and it must be constantly evolving.

Training for me is remaining teachable, learning from experts in each discipline, exposing my horses to different environments, video reviews and reflections not only from competition but also training sessions at home. Training is key to understanding my horse and the better I can understand my horse the better I can prepare each time for competition.

Preparation for competition doesn't begin the morning of an event. However, you must be prepared and focused for this moment. My morning preparation is unique to me and each of my horses. However, some of my constants include, physically stepping out my dressage tests, show jumping rounds and cross country courses where I visualise every movement, jump and optimum lines. I know from training the required warm up time necessary for each horse. I have a detailed time management plan to ensure each horse is given the best opportunity to perform to its potential.

All of this relies on a focused mind. Each day I get on a horse I focus on that moment. I focus on my body and how it communicates with the horse, I focus on my horse and how he responds to me, I focus on my prepared plan, I focus on why I am in the moment and what I want to get out of the moment. My focus is not perfection. My focus is being the best rider I can be and giving my horses the best opportunity to perform.

Being the best rider does not mean being perfect. Chasing perfection in a sport that involves the combination of two willful beings, human judgement and a variety of uncontrollable external influences is an impossible feat that will leave you disappointed every time. Set your eyes on what you can do to be the best. Set yourself up to train well, prepare well, all the while maintaining focus on yourself, your horse and your goal.
A huge thank you to the Eventing Aspiration Fund for its very generous support to help with the expenses of competing at Adelaide in 2018.
Matthew Gaske
2018 Eventing Aspiration Award
The selection panel for the Eventing Aspiration Award awarded Matthew Gaske as the 2018 recipient of the award.
The award of $2000 is made on merit to a Queensland rider travelling to the Australian International Three Day Event, Adelaide to compete at either 4* or 3* level to assist with the significant cost of attending the premier eventing competition in Australia and as such to serve as an incentive for Queensland riders to aspire to elite performance.
Matthew Gaske and Thymes Too had significant success at the 2018 Mitsubishi Motors Australian International Three Day Event in Adelaide finishing in 7th position overall in the CIC3* class.