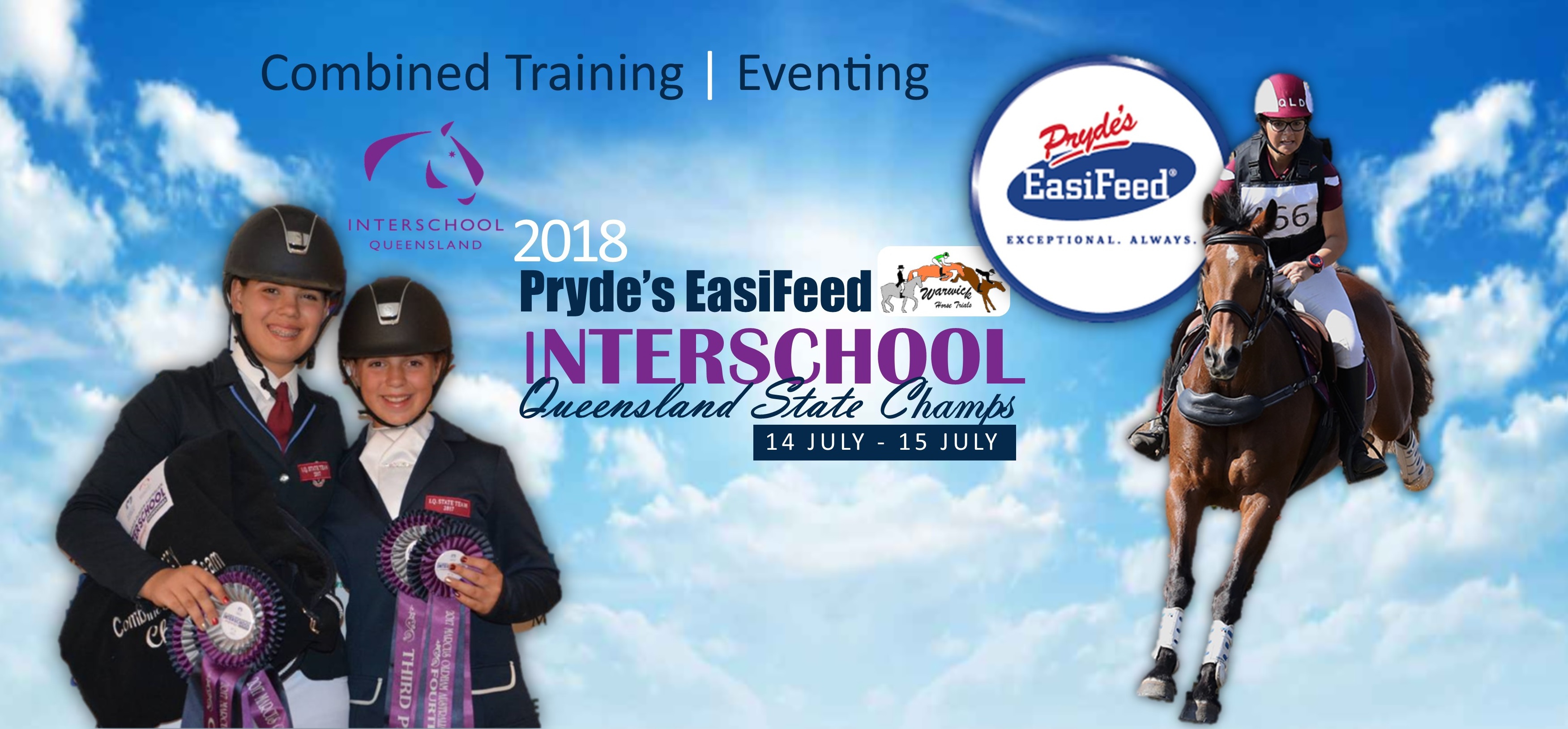 IQ State Eventing & Combined Training Championships - Wrap Up
This year the IQ State Eventing and Combined Training Championships were held together at Morgan Park, Warwick...
Just 2 weeks after the IQ State Dressage, Showman, Show Horse and Show Jumping Championships that were held at QSEC, Caboolture.  
It was great to see so many riders that could compete at both State Championships in multiple disciplines and it also gave horses and riders a well deserved break.
A big thank you to all volunteers, spectators and sponsors for supporting our Interschool riders throughout 2018 and at both the State Championships!
Congratulations to all riders and we wish the year 12's farewell and all the best for their futures. We hope to see them continue their equestrian endeavors.
Congratulations also must go to the IQ committee and Regional committee for another successful Championship series.
A special thank you to Pryde's EasiFeed,  for your continued support of the 2018 IQ events.
We wish the Interschool QLD State Team all the best and good luck with their preparations for the Australian Interschool National Championships at Werribee in October. 
VIEW OFFICIAL PHOTOGRAPHY BY OZ SHOTZ 
Congratulations to all the following...

STATE CHAMPION RIDERS,
SCHOOLS & TROPHY WINNERS


Eventing Champions
EvQ60:
Elkie-Ray Munn, Garnet Ranger
The Kooralbyn International School
EvA80:
Ellie Reedy, Rassendon Be My Love
The Glennie School
EvA95:
Isabel Kitte, Queens Park Hercules
AB Paterson College
EvA105:
Emily Ballard, Celtic Gilligan
Stuartholme School
CNC1*:
Brooke Dougall, My Locky
Faith Lutheran College
Combined Training Champions
Primary CT45:
Mikayla Symonds, Bevanlee Astronomer
Prenzlau State School
Primary CT60:
Siena Fisher-Peters, Wesley Dale Loveheart
West Moreton Anglican College
Primary CT80:
Ashlee Lowe, Helden Park Popstar
Jimboomba State School
Secondary CT60:
Sabrina Hitch, Dicavalli Dandy
Kings Christian College
Secondary CT80:
Holly Willmore, Glandore Western Star
St Aidan's Anglican Girls' School
Secondary CT95:
Bella Anthony, Pure Chance
Stuartholme School
Secondary CT105:
Bella Anthony, Under Contract
Stuartholme School
Teams
Champion Eventing Team:
Stuartholme School:
Emily Ballard, Bella Anthony, Ellie Turnbull, Piper Searle
Combined Training Secondary Champion Team: 
Stuartholme School:
Bella Anthony, Emily Ballard, Piper Searle, Ellie Turnbull
Overall Trophies
The Rita & Derek Dobson Trophy:
Kings Christian College
The QISEA Primary School Trophy:
Capricornia School of Distance Education
The Lorette Wigan Cup for Champion Equestrian Secondary School:
The Glennie School
The Harry LeBherz Perpetual Trophy for Champions Equestrian Primary School:
Capricornia School of Distance Education
The Kimberley Banks Perpetual Trophy:
Siena Fisher-Peters, Wesley Dale Loveheart, WMAC
The Brett Family Perpetual Trophy for the Overall State Champions Rider:
Emily Ballard, Celtic Gilligan, Stuartholme School
Coggan Family Sailor Trophy: 
Sarah Coggan, Heart of Hearts, The Glennie School
The Summers/McDougall School Trophy: 
Scots PGC