Pryde's EasiFeed Show Horse Qld Horse of the Year Wrap
Congratulations and thank you to everyone who has contributed to a successful 2021 Pryde's EasiFeed Show Horse Queensland HOTY and Child's show.
To Pryde's EasiFeed our major sponsor and all class sponsors, judges, competitors, mums, dads, families and their lovely horses we thank you.  Special thanks must go to our Show Horse Queensland committee and all event volunteers, we thankyou for all your work leading into and over the weekend.
Check out the Hoofprintz Photography gallery to view all your captured lovely memories over the course of the event.
Hoofprintz Photography Gallery

2021 Pryde's EasiFeed HOTY Results
Class 1: Rider of the Year under 12 years
Sponsored by: Charlton Produce
WINNER: R35 BORDERSHOW MAGIC MIKE
Rider: Chanelle Lovelock Owner: Chanelle Lovelock
RUNNER UP: R26 ELVONARA PARK KANDYMAN
Rider: Chase Jackson Owner: Carmen Jackson
THIRD: R9 WYANN SAFARI
Rider: Chloe Blair Owner: Louisa Dossetor and Chloe Blair
SMARTEST ON PARADE: R1 DUNELM FASHION STAR
Rider: Isabella Anderson Owner: Isabella Anderson
HIGHEST PLACED OWNER RIDER: R30 BELLGARRA MISS MUFFET
Rider: Amber Kahler Owner: Amber Kahler
Class 2: Rider of the Year 12 to 14 years
Sponsored By: Poseidon Equine
WINNER: R38 ROSEDALE REMEMBRANCE
Rider: Mackenzie Thompson Owner: Billie Johnstone
RUNNER UP: R21 SHELDENE STRAUSS
Rider: Amelia Waller Owner: Melissa and Amelia Waller
THIRD: R7 MOST IMPORTANT
Rider: Clare Fedrick Owner: Clare Fedrick, Linda and Graham Huddy
SMARTEST ON PARADE: R7 MOST IMPORTANT
Rider: Clare Fedrick Owner: Clare Fedrick, Linda and Graham Huddy
HIGHEST PLACED OWNER RIDER: R21 SHELDENE STRAUSS
Rider: Amelia Waller Owner: Melissa and Amelia Waller
Class 3: Rider of the Year 15 to 17 years
Sponsored by: Show Horse Queensland
WINNER: R8 REGAL REPLICA
Rider: Grace Berry Owner: Melissa Waller
RUNNER UP: R24 TOUSHEA
Rider: Taylor Humphreys Owner: Taylor Humphreys
THIRD: R5 STONELEIGH HOLLY GO LIGHTLY
Rider: Taylah Allen Owner: Taylah Allen
SMARTEST ON PARADE: R5 STONELEIGH HOLLY GO LIGHTLY
Rider: Taylah Allen Owner: Taylah Allen
Class 4: Rider of the Year 18 years to 25 years
Sponsored by: Shantaylah Lodge
WINNER: R43 EXTATIC GHP
Rider: Rhys Stanley Owner: Samantha Watt
RUNNER UP: R3 ELLABRE DEBONAIRE
Rider: Jessica Fedrick Owner: Jessica Fedrick
THIRD: R31 FIRST IMPRESSIONS
Rider: Riley Kent Owner: Bailee Richdale
SMARTEST ON PARADE: R31 FIRST IMPRESSIONS
Rider: Riley Kent Owner: Bailee Richdale
HIGHEST PLACED OWNER RIDER: R3 ELLABRE DEBONAIRE
Rider: Jessica Fedrick Owner: Jessica Fedrick
Class 5: Rider of the Year 26 years and over
Sponsored By: Six Bar Consulting
WINNER: Melissa Waller RUEBEN STAR LP
RUNNER UP: Lisa Jones FARLEIGH FLORIDANCE
THIRD: Jasmin Hunt-Petty FIORENTINA B
SMARTEST ON PARADE: Melissa Waller RUEBEN STAR LP
HIGHEST PLACED OWNER RIDER: Abbey Lovell DICAVALLI RORY
Class 6: Small Show Pony of the Year 12.0hh and under (rider 14 years & under)
Sponsored by: Bare Equestrian
WINNER: 661 BORDERSHOW MAGIC MIKE
Rider: Chanelle Lovelock Owner: Chanelle Lovelock
RUNNER UP: 613 SILKWOOD HEAVEN FOR SURE
Rider: Clare Fedrick Owner: Amelia, Brianna and Imogen Hay
THIRD: 608 SERENDIPITIE PARK XQUISITE
Rider: Chase Jackson Owner: Jennifer Daffy
SMARTEST ON PARADE: 608 SERENDIPITIE PARK XQUISITE
Rider: Chase Jackson Owner: Jennifer Daffy
Class 7: Medium Show Pony of the Year over 12.0hh n.e.13.0hh
Sponsored by: Just Gorgeous Things
WINNER: 694 SANDARAH EVENING STAR
Rider: Riley Kent Owner: Willow Scotson
RUNNER UP: 605 MANDALEY LORD LICHFIELD
Rider: Jayne Anderson Owner: Jayne Anderson
THIRD: 667 ROSEDALE SIMPLICITY
Rider: Mackenzie Thompson Owner: Rachael Midson-Thompson
SMARTEST ON PARADE: 720 ROSEDALE MATILDA
Rider: Sarah Young Owner: Sarah Young
HIGHEST PLACED OWNER RIDER: 605 MANDALEY LORD LICHFIELD
Rider: Jayne Anderson Owner: Jayne Anderson
Class 8: Large Show Pony of the Year over 13.0hh n.e.14.0hh
Sponsored by: Sweet Meadows
WINNER: 632 DRUMEDEN MUSICIAN
Rider: Isabella Cross-Winston Owner: Amelia, Brianna and Imogen Hay
RUNNER UP: 639 MIRINDA LANCELOT
Rider: Isla Grubisa Owner: Nicola Grubisa
THIRD: 699 REGAL MONARCH OF ASTRAL
Rider: Riley Kent Owner: Caitlin Senter
SMARTEST ON PARADE: 632 DRUMEDEN MUSICIAN
Rider: Isabella Cross-Winston Owner: Amelia, Brianna and Imogen Hay
HIGHEST PLACED OWNER RIDER: 639 MIRINDA LANCELOT
Rider: Isla Grubisa Owner: Nicola Grubisa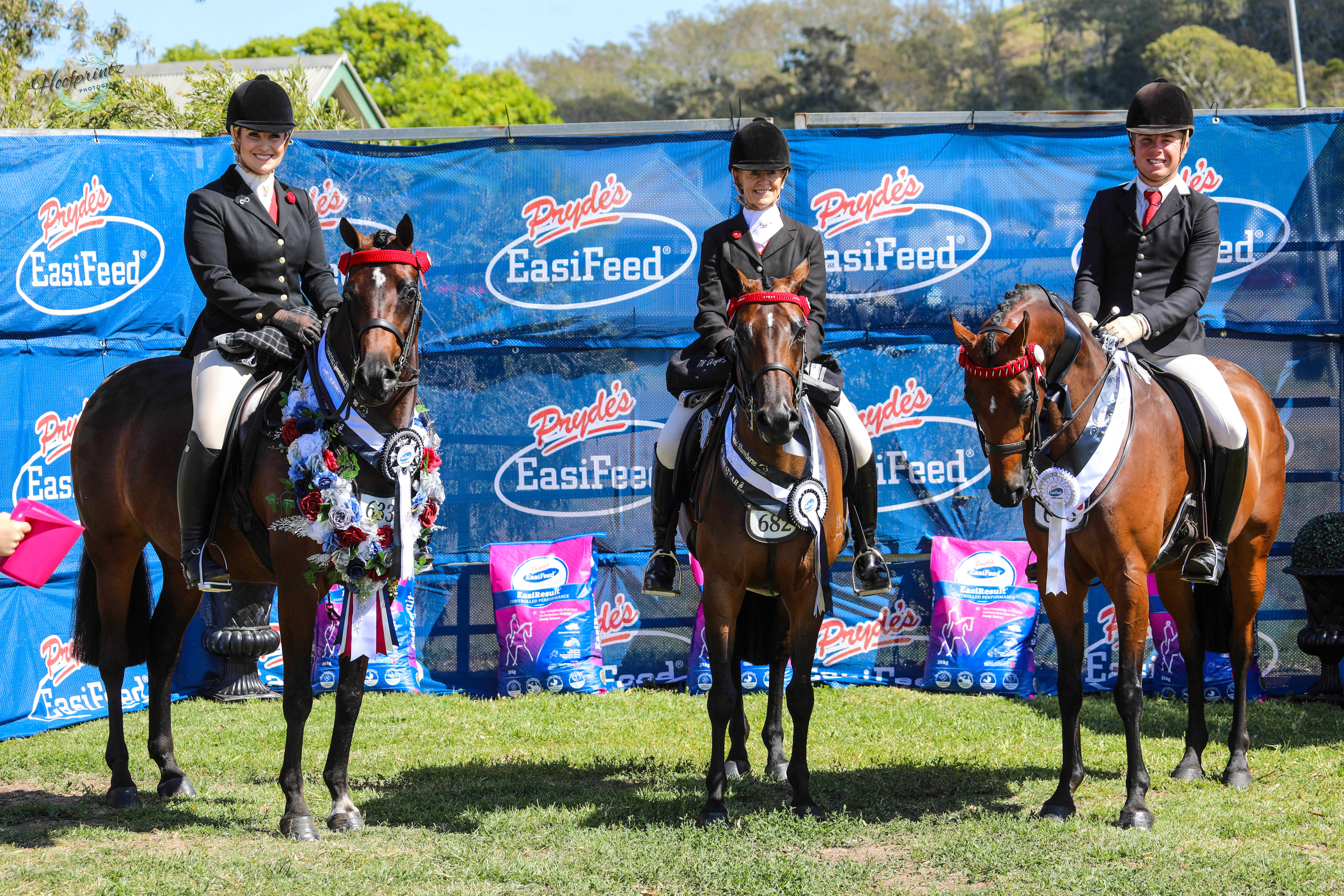 Class 9: Small Galloway of the Year over 14.0hh n.e.14.2hh (pictured above, photo credit Hoofprintz Photography)
Sponsored by: The Douglas Family
WINNER: 633 VANITY ROSE
Rider: Kirsty Harper-Purcell Owner: Kirsty Harper-Purcell
RUNNER UP: 682 ALPINE PARK DREAMTIME
Rider: Carmel Perkins Owner: Carmel Perkins
THIRD: 653 HAMLOT PARK SPLENDOUR
Rider: Riley Kent Owner: Angela Osborne
SMARTEST ON PARADE: 680 TREMAYNE LETS DANCE
Rider: Susan Paine-Chapman Owner: Susan Paine-Chapman
HIGHEST PLACED OWNER RIDER: 633 VANITY ROSE
Rider: Kirsty Harper-Purcell Owner: Kirsty Harper-Purcell
Class 10: Large Galloway of the Year 14.2hh n.e.15.0hh
Sponsored by: Edwards Saddleworld
WINNER: 648 ROSEDALE REMEMBRANCE
Rider: Mackenzie Thompson Owner: Billie Johnstone
RUNNER UP: 630 KOLBEACH HOLLYS KNOWING
Rider: Kirsty Harper-Purcell Owner: Kirsty Harper-Purcell
THIRD: 708 KENSINGTON TUSCAN DIAMOND
Rider: Kirsty Harper Purcell Owner: Joanne Uppington
SMARTEST ON PARADE: 708 KENSINGTON TUSCAN DIAMOND
Rider: Kirsty Harper Purcell Owner: Joanne Uppington
HIGHEST PLACED OWNER RIDER: 630 KOLBEACH HOLLYS KNOWING
Rider: Kirsty Harper-Purcell Owner: Kirsty Harper-Purcell
Class 11: The Worldly Memorial Small Hack of the Year over 15.0hh n.e.16.0hh
Sponsored by: The Harper-Purcell Family
WINNER: 697 MISS INDIANA
Rider: Rhys Stanley Owner: Maddysen Sears
RUNNER UP: 672 RIVALRY
Rider: Adam Oliver Owner: Adam Oliver
THIRD:
635 ARGYLE IMPRINT
Rider: Isabella Cross-Winston Owner: Isabella Cross-Winston
SMARTEST ON PARADE: 635 ARGYLE IMPRINT
Rider: Isabella Cross-Winston Owner: Isabella Cross-Winston
HIGHEST PLACED OWNER RIDER: 635 ARGYLE IMPRINT
Rider: Isabella Cross-Winston Owner: Isabella Cross-Winston
Class 12: Large Hack of the Year over 16.0hh
Sponsored by: County Saddlery
WINNER: 655 ROLEX II
Rider: Kaitlin Labahn-Meyland Owner: Michelle Labahn
RUNNER UP: 641 OCEANS
Rider: Rhiannon Hart Owner: Rhiannon Hart
THIRD: 715 EMIRATI
Rider: Adam Oliver Owner: Samantha Watt
SMARTEST ON PARADE: RUNNER UP: 641 OCEANS
Rider: Rhiannon Hart Owner: Rhiannon Hart
HIGHEST PLACED OWNER RIDER: 625 MOST IMPORTANT
Rider: Clare Fedrick Owner: Clare Fedrick, Linda and Graham Huddy
Class 13: Small Show Hunter Pony of the Year 12.0hh & under (rider 14 years & under)
Sponsored by: Baxter Family
WINNER: 687 NAWARRAH PARK BELLADONNA
Rider: Bronte Raymont Owner: Kylie Raymont
RUNNER UP: 604 DUNELM FASHION STAR
Rider & Owner: Isabella Anderson
THIRD: 610 WYANN SAFARI
Rider: Chloe Blair Owner: Louisa Dossetor
SMARTEST ON PARADE: 660 WORANORA JUPER
Rider & Owner Isla Grubisa
HIGHEST PLACED OWNER RIDER: 604 DUNELM FASHION STAR
Rider & Owner: Isabella Anderson
Class 14: Medium Show Hunter Pony of the Year over 12.0hh n.e.13.0hh
Sponsored by: Crown Equestrian Apparel
WINNER: 714 IMPERIAL JESTER
Rider: Jemima Warburton Owner: Jemima Warburton
RUNNER UP: 657 BAMBOROUGH SQUIRE
Rider: Kaitlin Labahn-Meyland Owner: Kaitlin Labahn-Meyland
THIRD: 693 CHERRINGTON ROYAL AMBASSADOR
Rider: Riley Kent Owner: Willow Scotson
SMARTEST ON PARADE: 693 CHERRINGTON ROYAL AMBASSADOR
Rider: Riley Kent Owner: Willow Scotson
HIGHEST PLACED OWNER RIDER: 640 PAULGREN PARK MELODY
Rider: Rubi Grubisa Owner: Nicola and Rubi Grubisa
Class 15: Large Show Hunter Pony of the Year over 13.0hh n.e.14.0hh 
Sponsored by: Beaudesert Motorcycles
WINNER: 643 OWENDALE BUTTER SCHNAPPS
Rider: Tyler Buchanan Owner: Peter Hudson
RUNNER UP: 646 ELVONARA PARK KANDYMAN
Rider: Chase Jackson Owner: Carmen Jackson
THIRD: 686 KYLDAR SCRIPT
Rider: Kylie Raymont Owner: Kylie Raymont
SMARTEST ON PARADE: 717 LANGTREE FABERGE
Rider: Paris Graham Owner: Samantha Watt
Class 16: Small Show Hunter Galloway of the Year over 14.0hh n.e.14.2hh (pictured above, photo credit Hoofprintz Photography)
Sponsored by: Trailrace
WINNER: 631 CLEMSON TUXEDO
Rider: Kirsty Harper-Purcell Owner: Kirsty Harper-Purcell
RUNNER UP: 675 MANORVALE SALVATORE
Rider: Rhys Stanley Owner: Emma Ashton
THIRD: 656 ROYAL COMMAND OF SEFTON
Rider: Kaitlin Labahn-Meyland Owner: Michelle Labahn
SMARTEST ON PARADE: CLEMSON TUXEDO
Rider: Kirsty Harper-Purcell Owner: Kirsty Harper-Purcell
HIGHEST PLACED OWNER RIDER: CLEMSON TUXEDO
Rider: Kirsty Harper-Purcell Owner: Kirsty Harper-Purcell
Class 17: Large Show Hunter Galloway of the Year over 14.2hh n.e.15.0hh
Sponsored by: Judges Choice
WINNER: 678 FINCH FARM TREBUCHET
Rider: Adam Oliver Owner: Melanie Wellsteed
RUNNER UP: 603 STONELEIGH HOLLY GO LIGHTLY
Rider: Taylah Allen Owner: Taylah Allen
THIRD: 602 DREAMTIME AMBITION
Rider: Riley Kent Owner: Georgia Fairweather
SMARTEST ON PARADE: 603 STONELEIGH HOLLY GO LIGHTLY
Rider: Taylah Allen Owner: Taylah Allen
HIGHEST PLACED OWNER RIDER: 628 ELLABRE DEBONAIRE
Rider Jessica Fedrick Owner Jessica Fedrick
Class 18: Small Show Hunter Hack of the Year 15.0hh n.e.16.0hh
Sponsored by: September Park
WINNER: 716 EXTATIC GHP
Rider: Rhys Stanley Owner: Samantha Watt
RUNNER UP: 674 JAZDAN ROYAL OLYMPIA
Rider: Adam Oliver Owner: Emma Ashton
THIRD: 659 DICAVALLI RORY
Rider: Paul Austin Owner: Abbey Lovell
SMARTEST ON PARADE: 716 EXTATIC GHP
Rider: Rhys Stanley Owner: Samantha Watt
Class 19: Large Show Hunter Hack of the Year over 16.0hh
Sponsored by: Northcoach RV
WINNER: 712 RUEBEN STAR LP
Rider: Melissa Waller Owner: Melissa Waller
RUNNER UP: 654 FIRST IMPRESSIONS
Rider: Riley Kent Owner: Bailee Richdale
THIRD: 690 EBL EXCITE
Rider: Sarah Ryan Owner: Sarah Ryan
SMARTEST ON PARADE: 677 BRADGATE PARK FEDERER
Rider: Adam Oliver Owner: Kate Kyros
Class 20: Lead Rein Show Pony n.e.12.0hh (riders 5 years & under 8 years)
Sponsored by: Barbara Barr
WINNER: 661 BORDERSHOW MAGIC MIKE
Rider: Chanelle Lovelock Owner: Chanelle Lovelock
RUNNER UP: 613 SILKWOOD HEAVEN FOR SURE
Rider: Cleo Duncan Owner: Amelia, Brianna and Imogen Hay
SMARTEST ON PARADE: 613 SILKWOOD HEAVEN FOR SURE
Rider: Cleo Duncan Owner: Amelia, Brianna and Imogen Hay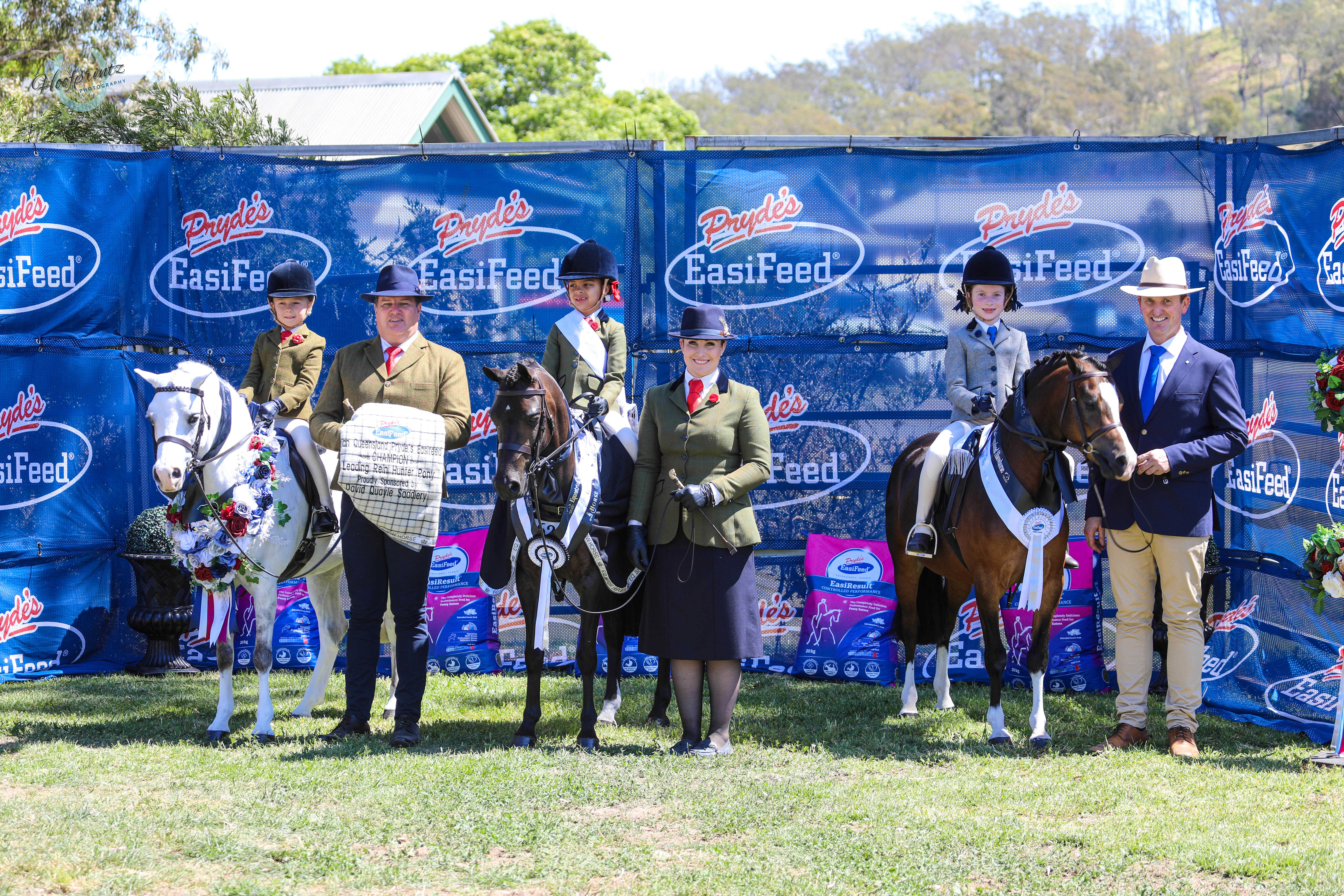 Class 21: Lead Rein Hunter Pony n.e.12.0hh (riders 5 years & under 8 years) (pictured above, photo credit Hoofprintz Photography)
Sponsored by: David Quayle Saddlery
WINNER: 687 NAWARRAH PARK BELLADONNA
Rider: Bridie Raymont Owner: Kylie Raymont
RUNNER UP: 627 BERWYN SWALLOW
Rider: Cleo Valentine Duncan Owner: Martine Duncan
THIRD: 660 WORANORA JUPITER
Rider: Chloe Blair Owner: Abbey Lovell
SMARTEST ON PARADE: 627 BERWYN SWALLOW
Rider: Cleo Valentine Duncan Owner: Martine Duncan
Class 22: Child's Small Show Pony of the Year 12.0hh and under (rider 14 years & under)
Sponsored by: Jayne Anderson
WINNER: 661 BORDERSHOW MAGIC MIKE
Rider: Chanelle Lovelock Owner: Chanelle Lovelock
RUNNER UP: 613 SILKWOOD HEAVEN FOR SURE
Rider: Clare Fedrick Owner: Amelia, Brianna and Imogen Hay
THIRD: 608 SERENDIPITIE PARK XQUISITE
Rider: Chase Jackson Owner: Jennifer Daffy
SMARTEST ON PARADE: 608 SERENDIPITIE PARK XQUISITE
Rider: Chase Jackson Owner: Jennifer Daffy
Class 23: Child's Medium Show Pony of the Year over 12.0hh n.e.13.0hh (pictured above, photo credit Hoofprintz Photography)
Sponsored by: PED Bits
WINNER: 605 MANDALEY LORD LICHFIELD
Rider: Isabella Anderson Owner: Isabella Anderson
RUNNER UP: 694 SANDARAH EVENING STAR
Rider: Willow Scotson Owner: Willow Scotson
THIRD: 685 WHITMERE COUNTESS
Rider: Pipi Polla-Mounter Owner: Pipi Polla-Mounter
SMARTEST ON PARADE: 694 SANDARAH EVENING STAR
Rider: Willow Scotson Owner: Willow Scotson
HIGHEST PLACED OWNER RIDER: 605 MANDALEY LORD LICHFIELD
Rider: Isabella Anderson Owner: Isabella Anderson
Class 24: Child's Large Show Pony of the Year 13.0hh n.e.14.0hh
Sponsored By: Martine Duncan
WINNER: 699 REGAL MONARCH OF ASTRAL
Rider: Amelia Waller Cronin Owner: Caitlin Senter
RUNNER UP: 632 DRUMEDEN MUSICIAN
Rider: Clare Fedrick Owner: Amelia, Brianna and Imogen Hay
THIRD: 688 CARLINGFORDPARKSUPREMECOURT
Rider: Alli Reinke Owner: Alli Reinke
SMARTEST ON PARADE: 622 TL TOY BOY
Rider: Bianca Van Kampen Owner: Elyse Douglas
HIGHEST PLACED OWNER RIDER: 639 MIRINDA LANCELOT
Rider: Isla Grubisa Owner: Nicola Grubisa
Class 25: Child's Small Galloway of the Year over 14.0hh n.e.14.2hh
Sponsored by: Champion Choice Browbands
WINNER: 653 HAMLOT PARK SPLENDOUR
Rider: Mackenzie Thompson Owner: Angela Osborne
SMARTEST ON PARADE: 653 HAMLOT PARK SPLENDOUR
Rider: Mackenzie Thompson Owner: Angela Osborne
Class 26: Child's Large Galloway of the Year over 14.2hh n.e.15.0hh
Sponsored By: Kurt Crowther
WINNER: 713 SHELDENE STRAUSS
Rider: Amelia Waller Owner: Melissa and Amelia Waller
RUNNER UP: 648 ROSEDALE REMEMBRANCE
Rider: Mackenzie Thompson Owner: Billie Johnstone
THIRD: 607 GRAND ENTRANCE
Rider: Lexie Armstrong Owner: Lexie Armstrong
SMARTEST ON PARADE: 648 ROSEDALE REMEMBRANCE
Rider: Mackenzie Thompson Owner: Billie Johnstone
HIGHEST PLACED OWNER RIDER: 713 SHELDENE STRAUSS
Rider: Amelia Waller Owner: Melissa and Amelia Waller
Class 27: Child's Small Hack of the Year over 15.0hh n.e.16.0hh
Sponsored By: Amy Taylor – International Thoroughbred
WINNER: 635 ARGYLE IMPRINT
Rider: Clare Fedrick Owner: Isabella Cross-Winston
RUNNER UP: 644 TOUSHEA
Rider: Taylor Humphreys Owner: Taylor Humphreys
THIRD: 669 DP TOKYO
Rider: Shilah Morris Owner: Karen and Shilah Morris
SMARTEST ON PARADE: 635 ARGYLE IMPRINT
Rider: Clare Fedrick Owner: Isabella Cross-Winston
Class 28: Child's Large Hack of the Year over 16.0hh
Sponsored By: Equissage
WINNER: 625 MOST IMPORTANT
Rider: Clare Fedrick Owner: Clare Fedrick, Linda and Graham Huddy
RUNNER UP: 641 OCEANS
Rider: Rhiannon Hart Owner: Rhiannon Hart
THIRD: 700 EBL PLATINUM
Rider: Paige Sinnamon Owner: Penny and Paige Sinnamon
SMARTEST ON PARADE: 641 OCEANS
Rider: Rhiannon Hart Owner: Rhiannon Hart
HIGHEST PLACED OWNER RIDER: 625 MOST IMPORTANT
Rider: Clare Fedrick Owner: Clare Fedrick, Linda and Graham Huddy
Class 29: Child's Small Show Hunter Pony of the Year 12.0hh & and under
(Rider 14 years & under)
Sponsored By: All Horses Veterinary Services
WINNER: 610 WYANN SAFARI
Rider: Chloe Blair Owner: Louisa Dossetor and Chloe Blair
RUNNER UP: 687 NAWARRAH PARK BELLADONNA
Rider: Bronte Raymont Owner: Kylie Raymont
THIRD: 604 DUNELM FASHION STAR
Rider: Isabella Anderson Owner: Isabella Anderson
SMARTEST ON PARADE: 610 WYANN SAFARI
Rider: Chloe Blair Owner: Louisa Dossetor and Chloe Blair
HIGHEST PLACED OWNER RIDER: 604 DUNELM FASHION STAR
Rider: Isabella Anderson Owner: Isabella Anderson
Class 30: Child's Medium Show Hunter Pony of the Year over 12.0hh n.e.13.0hh
Sponsored By: The Baxter Family
WINNER: 693 CHERRINGTON ROYAL AMBASSADOR
Rider: Willow Scotson Owner: Willow Scotson
RUNNER UP: 620 GATEHAMPTON PARK MONTE CARLO
Rider: Fraser Deverill Owner: Fraser and Jacqui Deverill
THIRD: 657 BAMBOROUGH SQUIRE
Rider: Regan Lawrence Owner: Kaitlin Labahn-Meyland
SMARTEST ON PARADE: 693 CHERRINGTON ROYAL AMBASSADOR
Rider: Willow Scotson Owner: Willow Scotson
HIGHEST PLACED OWNER RIDER: 640 PAULGREN PARK MELODY
Rider: Rubi Grubisa Owner: Nicola and Rubi Grubisa
Class 31: Child's Large Show Hunter Pony of the Year over 13.0hh n.e.14.0hh
Sponsored By: Q-Roofing
WINNER: 686 KYLDAR SCRIPT
Rider: Bronte Raymont Owner: Kylie Raymont
RUNNER UP: 643 OWENDALE BUTTER SCHNAPPS
Rider: Mackenzie Thompson Owner: Peter Hudson
THIRD: 646 ELVONARA PARK KANDYMAN
Rider: Chase Jackson Owner: Carmen Jackson
SMARTEST ON PARADE: 686 KYLDAR SCRIPT
Rider: Bronte Raymont Owner: Kylie Raymont
Class 32: Child's Small Show Hunter Galloway of the Year over 14.0hh n.e.14.2hh
Sponsored By: Six Bar Consulting
WINNER: 631 CLEMSON TUXEDO
Rider: Clare Fedrick Owner: Kirsty Harper-Purcell
RUNNER UP: 666 PINNACLE CELTIC SALT
Rider: Taylah Hore : Tanisha McCuin
THIRD: 656 ROYAL COMMAND OF SEFTON
Rider: Regan Lawrence Owner: Michelle Labahn
SMARTEST ON PARADE: 656 ROYAL COMMAND OF SEFTON
Rider: Regan Lawrence Owner: Michelle Labahn
Class 33: Child's Large Show Hunter Galloway of the Year over 14.2hh n.e.15.0hh
Sponsored By: Horseland Toowoomba
WINNER: 603 STONELEIGH HOLLY GO LIGHTLY
Rider: Taylah Allen Owner: Taylah Allen
RUNNER UP: 628 ELLABRE DEBONAIRE
Rider: Clare Fedrick Owner: Jessica Fedrick
THIRD: 638 NATIONAL VELVET
Rider: Paris Graham Owner: Nina Stone
SMARTEST ON PARADE: 603 STONELEIGH HOLLY GO LIGHTLY
Rider: Taylah Allen Owner: Taylah Allen
Class 34: Child's Small Show Hunter Hack of the Year over 15.0hh n.e.16.0hh
Sponsored By: Hitchley & Harrow
WINNER: 716 EXTATIC GHP
Rider: Paris Graham Owner: Samantha Watt
SMARTEST ON PARADE: 716 EXTATIC GHP
Rider: Paris Graham Owner: Samantha Watt
Class 35: Child's Large Show Hunter Hack of the Year over 16.0hh
Sponsored By: Universal Stables
WINNER: 712 RUEBEN STAR LP
Rider: Grace Berry Owner: Melissa Waller
RUNNER UP: 606 DICAVALLI ROYAL GUESS
Rider: Lexie Armstrong Owner: Tina Armstrong
SMARTEST ON PARADE: 712 RUEBEN STAR LP
Rider: Grace Berry Owner: Melissa Waller