QI3DE FTP Wildcard Nominees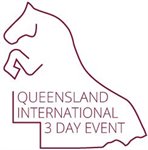 It was two "senior" riders and one junior rider who caught the judges' eye at the Fig Tree Pocket ODE this weekend.
Once again, the FTP ODE Committee worked tirelessly to put on a great event, and the course improvements were noted by many.
EVA80 – Sebastian Fox and Isle of Hurlingham impressed the judges with his improvement in the dressage arena. The horse is a relatively new mount for Sebastian, and the obvious improvement in this phase shows maturity as a young rider and dedication to the sport as a whole.
EVA95 – Meryn Scott and Occasional Rocker demonstrated the strength of their partnership with a lovely display in the dressage and a clear and accurately ridden cross country round. Though they had a rail in the showjumping, the pair looked composed and relaxed and this partnership just goes from strength to strength.
EVA 105 – Sophia Edwards and Belrieve Ice Queen are both on the comeback trail. Sophia broke her shoulder at an event in September last year. She had surgery, and months of rehabilitation before she was allowed back in the saddle. This weekend the pair put on a solid display of horsemanship in the three phases.
Congratulations to all the winners and keep watch for the announcement of the next event the QI3DE judges will attend.