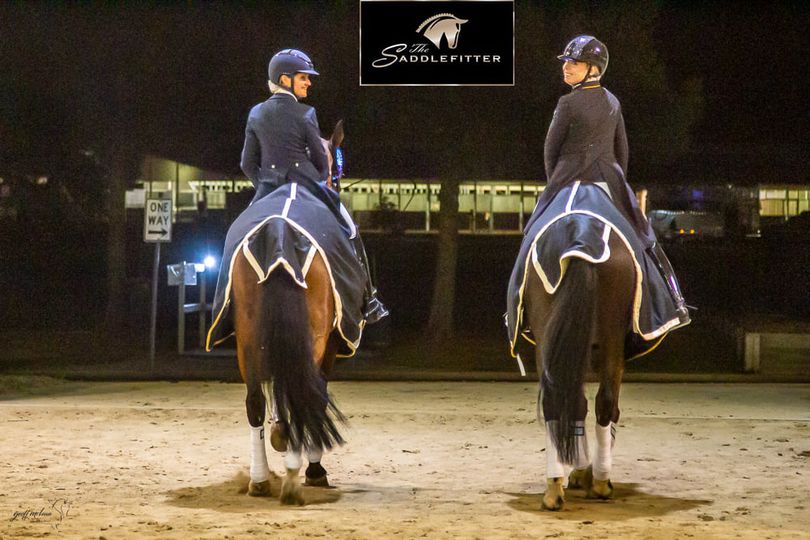 The Saddlefitter Brisbane CDN & Queensland State Dressage Championships Event Wrap
Despite missing our interstate competitors that couldn't attend due to border closures and COVID-19... Queenslanders sure did appreciate the opportunity and all the effort that went into the organisation of a brilliant show!
What a wonderful 4 days of relaxed and friendly competition. The livestream produced by Equestrian Life that was made possible by Dressage Queensland and Equestrian Queensland, captured key classes and entertainment that provided many spectators at home the opportunity to still be a part of the event. We missed having major sponsor The Saddlefitter Kathryn Sullivan-Butt at the event however there was not a participant who is not grateful and we were all thinking of you.
Congratulations to all riders, horses, owners, grooms, parents, volunteers, officials, sponsors, scorers, the livestream team, photographers, cleaners, media and trade and food vendors for an outstanding event!
A huge thanks goes to Anita Barton, Event Director for all your hard work, passion and dedication. Always remining calm and positive despite the obstacles thrown at you. Well done Anita, we look forward to 2021!
For full results visit Nominate via the button below.
2020 Remi Stud Young Rider Scholarship
A special congratulations to Elise Payne (17) from Ourimbah NSW on winning the 2020 Remi Young Rider Scholarship! The young horse awarded to Elise (pictured below) is the 9 month old weanling filly Remi Laurentia S (aka Tia) by Lauries As out of Remi Veuve Clicquot. Cheryl O'Brien from Remi Stud has put together a great team of supporters to help make this dream come true for one lucky young rider.  

The scholarship includes the ownership of a purpose bred Hanoverian weanling by Lauries As (imp), plus a support package which includes feed from Pryde's EasiFeed, registration with
Equestrian Queensland, marketing from Equestrian Australia and the Brisbane CDI, legal support from HorseForce, a saddle, bridle and saddle cloth from Edwards Saddleworld, 10 weeks training by
Lord Dressage (in conjunction with Team Van Den Berge), show product from Dr Show, riding attire from Belrock Equestrian, Veterinary care from WestVETS, registration and merchandise from the Hanoverian Horse Society of Australia, hoof care from Meaker Farrier Services, $1500 product from Kelato Animal Health and transport by Manuel Equine Transport.
A total package valued at over $30,000.  For more information regarding eligibility and previous winners please click here: http://www.remistud.com/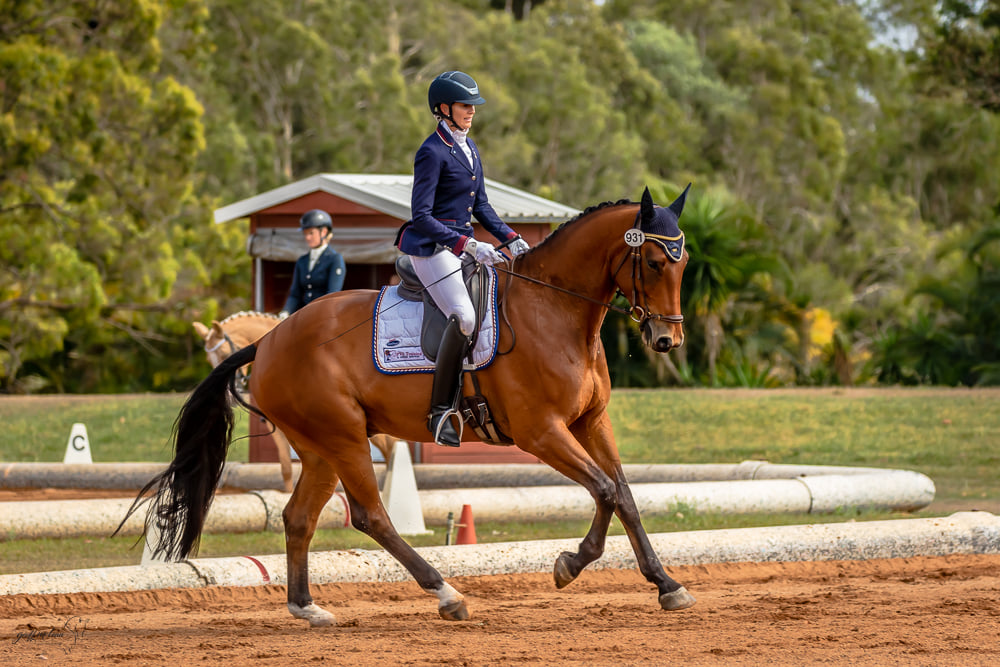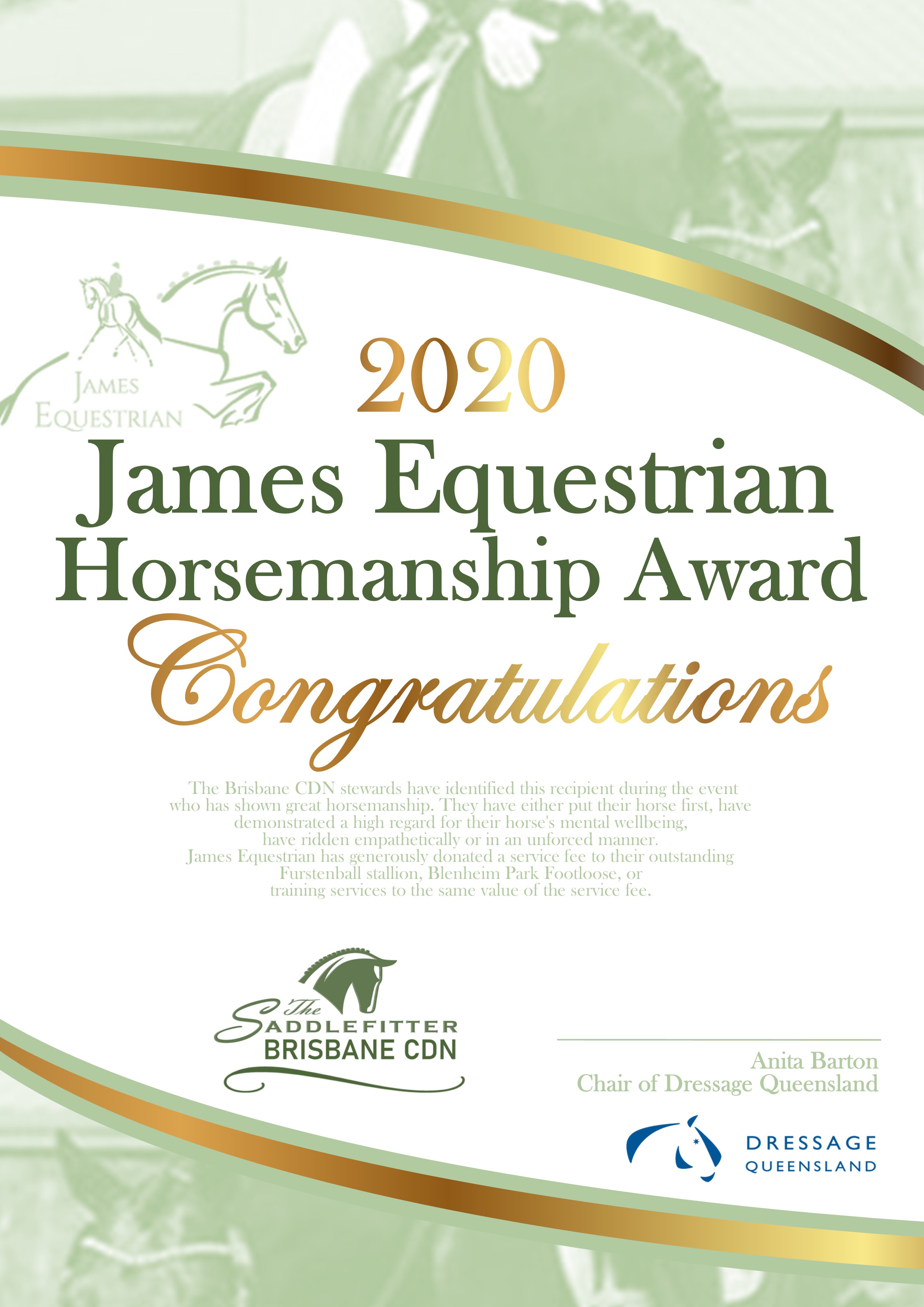 James Equestrian Horsemanship Award
Pamela Kingwell from Bowen North Queensland (pictured above) who made the 1,100km journey to compete at the Brisbane CDN was awarded by the stewards the James Equestrian Horsemanship award.
Pamela will receive either a service to the outstanding James Equestrian Furstenball stallion, Blenheim Park Footloose, or training services to the value of the service fee.
Over the course of the show our stewards observed Pamela demonstrating exceptional horsemanship caring for her horses and lending support and offering encouragement to fellow competitors.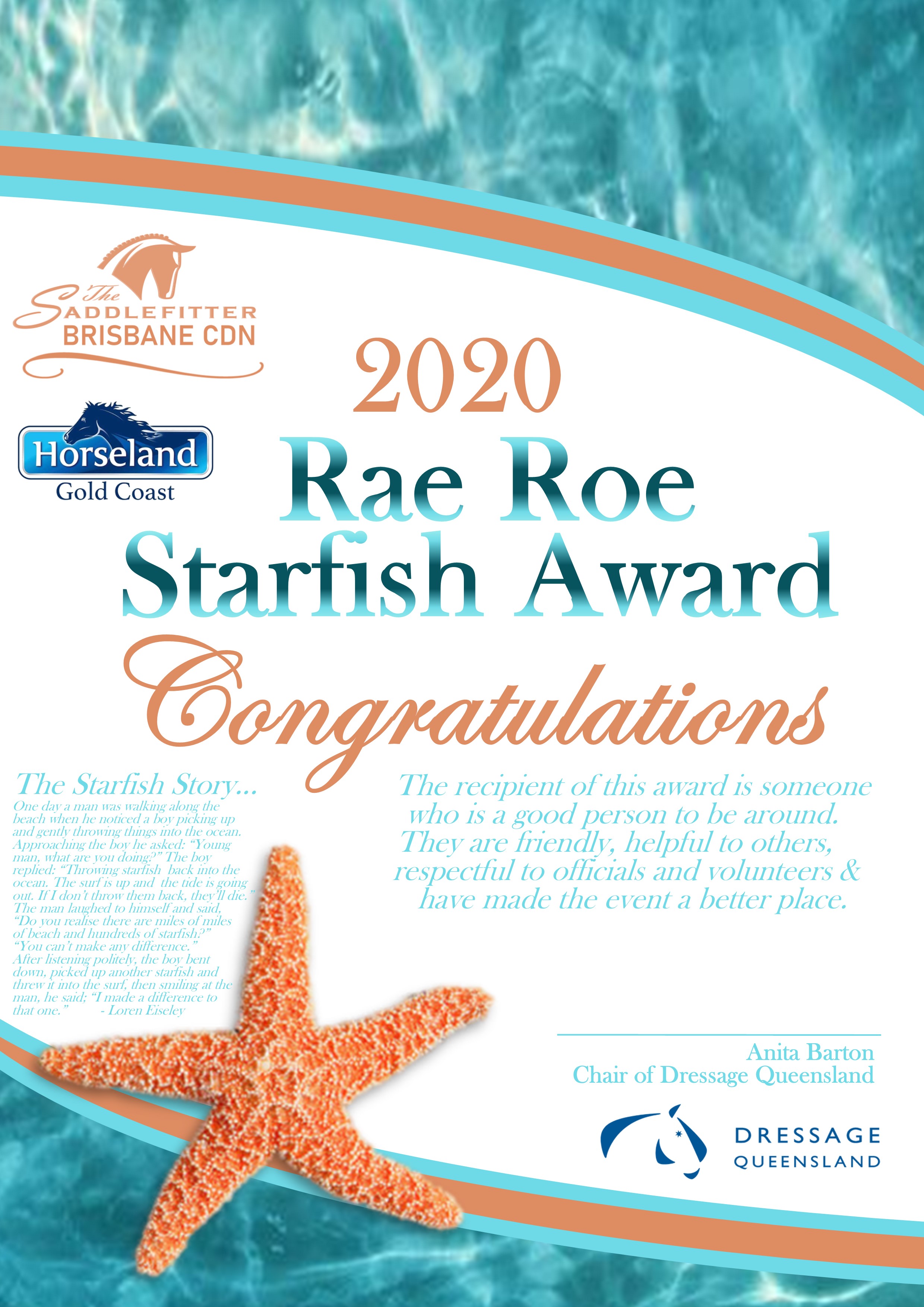 The Ray Roe Star Fish Award
Ray Roe. 'The General', who together with wife Kaz, supported the development and sustainability of equestrian sport in Queensland.  Ray tragically passed away from a stroke in September 2019.
This award has been established in memory of Ray.  Congratulations to our first winner of this award Jayden Donald. 
Our stewards observing Jayden over the weekend saw qualities of a fine young man, compassion, encouraging, helpful, supportive and kind to others.
Jayden is pictured above competing in the Horseland CDN-J Individual test on his mount Larapinta Showstar.  Well done Jayden!
Best Performed Off The Track Thoroughbred
Thank you to Racing Queensland for sponsoring this wonderful award! Off The Track thoroughbreds excel in a range of disciplines due to their speed, stamina and agility and Katie Gorell and Katies Performance Charlation showed us just how versatile an OTT horse can be taking out our best performed Queensland Racing sponsored Off the Track Thoroughbred award with scores in the Elementary 3B of 66.063% and Elementary 3C 62.500%.
Katie is well known in eventing circles and has a long association with retraining OTT's, the work Katie does is invaluable.
Katies Performance Charlation raced as Bowlers Lane (Sire: Hidden Dragon Dam: Chick Gold ) and had 9 starts for 1 2nd and 1 3rd earning $8,675.00 for his connections, retiring in 2015 and taken on by Katie, since then Charlation has gone on to compete at up to 2** eventing.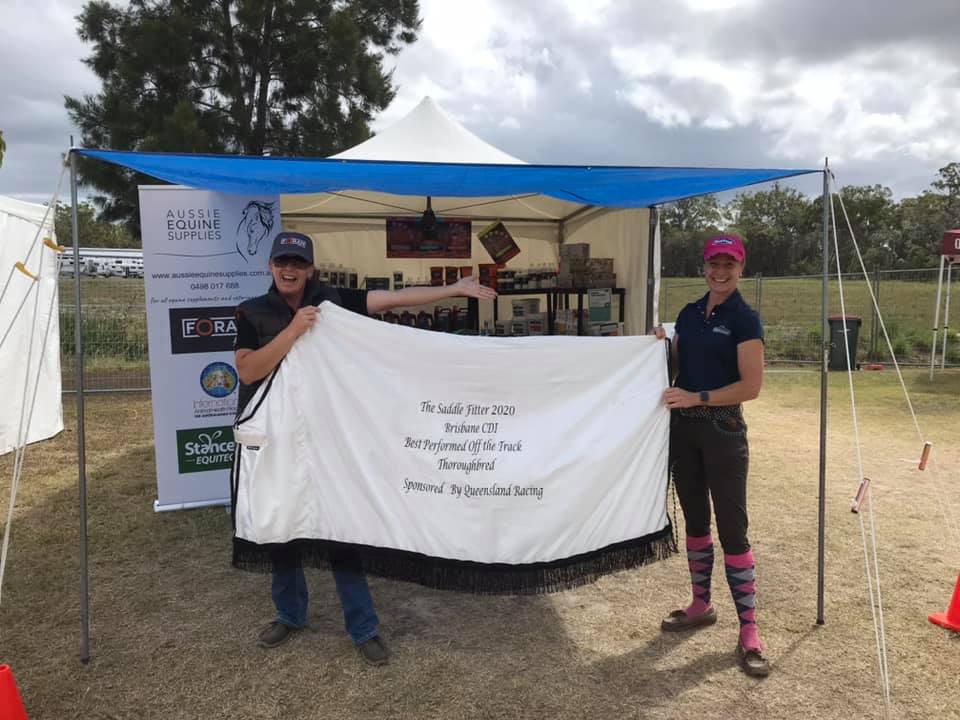 EQ/DQ Virtual Dressage Series
Congratulations to all EQ/DQ Virtual Dressage Series winners, your The Saddlefitter Valegro trophies and Aitken's Saddery vouchers were wonderful gifts and we thank The Saddlefitter and Aitken's for being such wonderful supporters of our sport!
Media Credit