Would your Club be Interested in Driving?
To all EA-Affiliated Clubs and Groups in Queensland,
Welcome to the New COVID-19 Equestrian scene in Queensland! 
Our newly appointed Driving Queensland Sport Committee are very forward-thinking, and are already planning for where we want to see Driving go in the future...
As one of the FEI disciplines, Driving Queensland aims to promote the skilful art of carriage driving to all interested people.
Did you know that Driving is the oldest competitive equestrian sport yet it continues to thrive in the 21st century. Drivers sit on a vehicle drawn by a single horse or pony, a pair or a team of four and they face three trials – dressage, marathon and obstacle driving. Other competitions include Dressage and a shortened Cones course inside a dressage arena and a combined marathon obstacle and Cones course in a short format.  These may be combined with other phases, or held alone.
Would your club members be interested in learning more about Driving? 
There are many riders, non riders and current Drivers out there just looking for a pathway to get onto, and since so many EA-Affiliated Clubs are already knowledgeable and enthusiastic, we need your help, which in turn may help you!
So, whether you are a Jump Club, an Eventing Club, a Dressage Club or maybe you are already a multi-disciplinary Club, please consider adding Driving to your quiver of EA sports!  We are here to help you do just that.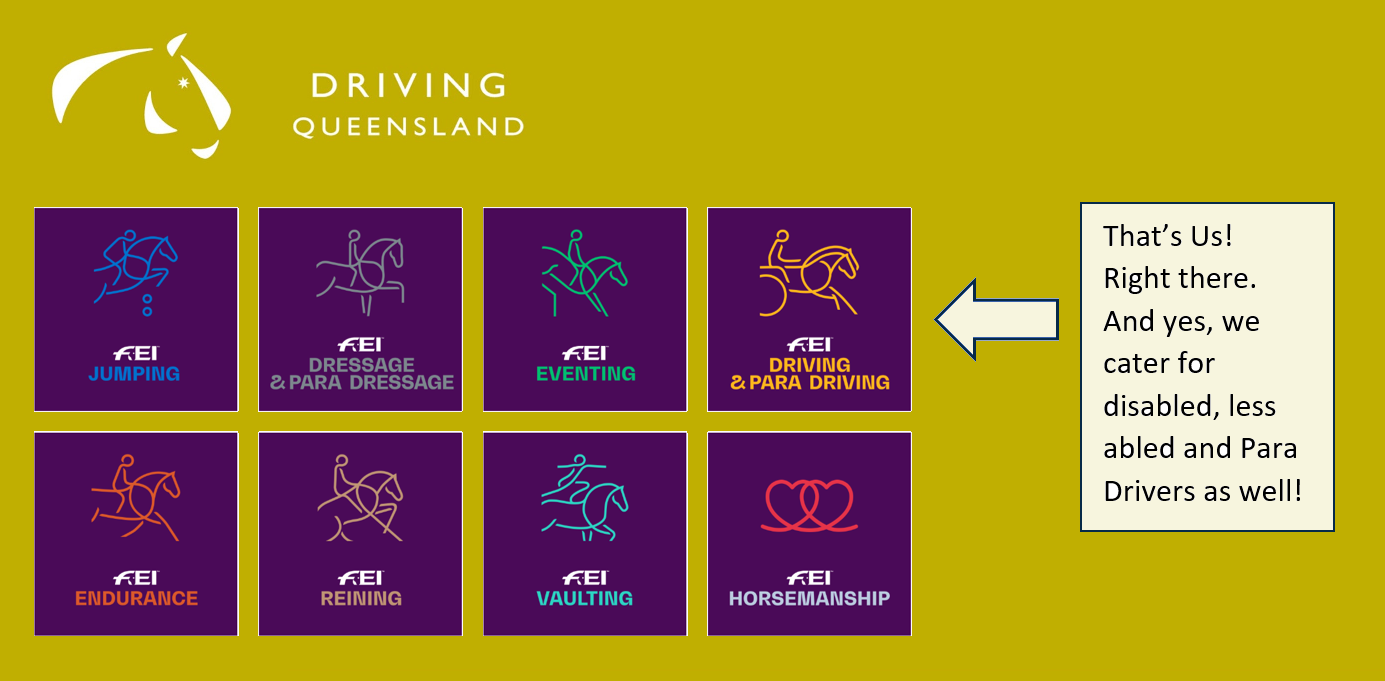 If you are already an EA-affiliated Driving Club, we would extend the same opportunities to you and also ask you to consider offering a wider range of equestrian sports, if this enhances currently available local activities.  Or, if other local EA-affiliated Clubs are close by, you could consider working in with them to offer multi-disciplinary activity days.  We know of at least two clubs already doing this, quite successfully!
Driving Queensland is eager to help your Club dip its hooves into the Sport of Driving, and to that end, offers to help you -
Run or help run Driving Clinics, or Judge/Officials Clinics, either online or face-to-face, and/or
Provide organizational help for your Club to include Driving Dressage and Challenge tests at your Club Activity Days, either face-to-face or online, and/or
Provide you with the opportunity to access Driving equipment, anywhere in Queensland.
So if you think we can help you, or you would just like
to chat about possibilities, please give us a
call on 0427 632 732, email [email protected] 
or [email protected]
or send us a Facebook message through the
Driving Queensland Facebook page.