Beauty. Grace. Fitness. Strength. We open the vault
Full transcript of the article below the picture.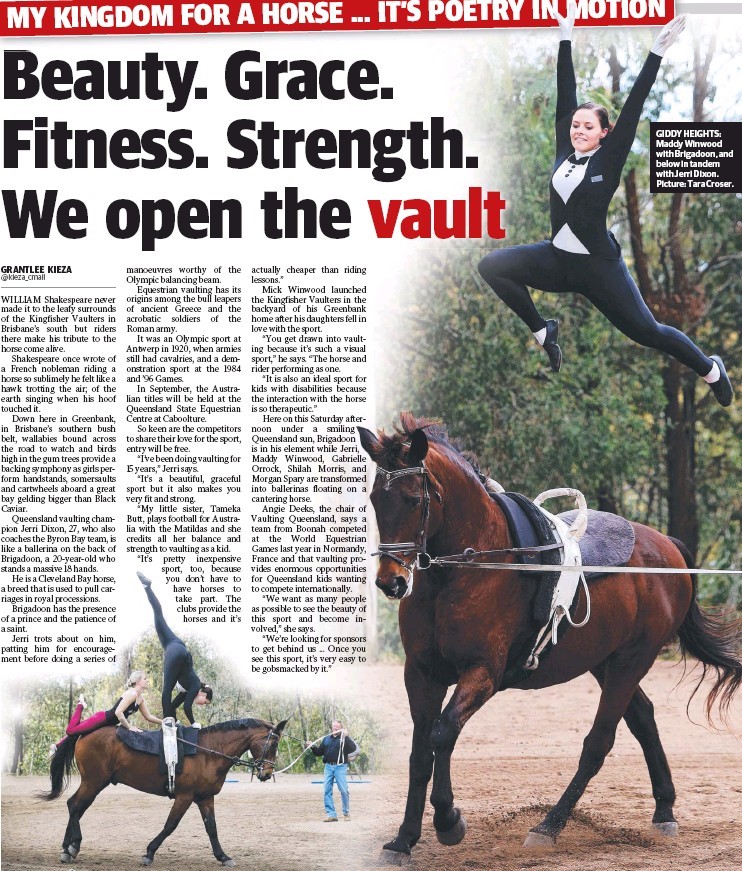 WILLIAM Shakespeare never made it to the leafy surrounds of the Kingfisher Vaulters in Brisbane's south but riders there make his tribute to the horse come alive.
Shakespeare once wrote of a French nobleman riding a horse so sublimely he felt like a hawk trotting the air; of the earth singing when his hoof touched it.
Down here in Greenbank, in Brisbane's southern bush belt, wallabies bound across the road to watch and birds high in the gum trees provide a backing symphony as girls perform handstands, somersaults and cartwheels aboard a great bay gelding bigger than Black Caviar.
Queensland vaulting champion Jerri Dixon, 27, who also coaches the Byron Bay team, is like a ballerina on the back of Brigadoon, a 20-year-old who stands a massive 18 hands.
He is a Cleveland Bay horse, a breed that is used to pull carriages in royal processions.
Brigadoon has the presence of a prince and the patience of a saint.
Jerri trots about on him, patting him for encouragement before doing a series of manoeuvres worthy of the Olympic balancing beam.
Equestrian vaulting has its origins among the bull leapers of ancient Greece and the acrobatic soldiers of the Roman army.
It was an Olympic sport at Antwerp in 1920, when armies still had cavalries, and a demonstration sport at the 1984 and '96 Games.
In September, the Australian titles will be held at the Queensland State Equestrian Centre at Caboolture.
So keen are the competitors to share their love for the sport, entry will be free.
"I've been doing vaulting for 15 years," Jerri says.
"It's a beautiful, graceful sport but it also makes you very fit and strong.
"My little sister, Tameka Butt, plays football for Australia with the Matildas and she credits all her balance and strength to vaulting as a kid. "It's pretty inexpensive sport, too, because you don't have to have horses to take part. The clubs provide the horses and it's actually cheaper than riding lessons."
Mick Winwood launched the Kingfisher Vaulters in the backyard of his Greenbank home after his daughters fell in love with the sport.
"You get drawn into vaulting because it's such a visual sport," he says. "The horse and rider performing as one.
"It is also an ideal sport for kids with disabilities because the interaction with the horse is so therapeutic."
Here on this Saturday afternoon under a smiling Queensland sun, Brigadoon is in his element while Jerri, Maddy Winwood, Gabrielle Orrock, Shilah Morris, and Morgan Spary are transformed into ballerinas floating on a cantering horse.
Angie Deeks, the chair of Vaulting Queensland, says a team from Boonah competed at the World Equestrian Games last year in Normandy, France and that vaulting provides enormous opportunities for Queensland kids wanting to compete internationally.
"We want as many people as possible to see the beauty of this sport and become involved," she says.
"We're looking for sponsors to get behind us ... Once you see this sport, it's very easy to be gobsmacked by it."