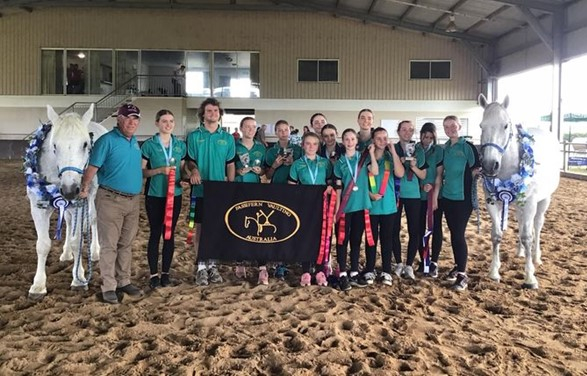 Fassifern Vaulters follow on the success from National Vaulting Championships to dominate the Qld State Vaulting Championships
After rescheduling after bad weather, the Qld State Vaulting Championships were held at Bellara Park (Beaudesert) over the 19-20 November. The Event was well attended with all local clubs sending vaulters and horses to the Championships. There where even several Sydney based vaulters and horses also travel up from Sydney to take part.
Fassifern sent 13 vaulters and two horses to the event. Taking part in all levels of competition from walk to advance as individuals, Pas De Deux, and Squads. Our vaulters and horses who had travelled down to the National Championships had a couple of weeks off to recover, while our junior vaulters worked tirelessly to perfect their routines on the horses and barrels. All the training and preparing paid off with our vaulters coming away with many wins and places in all classes entered. The club coaches came away very happy with all State Champion awards going to Fassifern Vaulters and horses including Qld Champion competitive Vaulter and Qld Champion Participation Vaulter. Full Results can be found on Vaulting Qld webpage.
Fassifern wish to congratulate the Vaulting Qld committee for organising a well-run, welcoming event that was inclusive of all levels of vaulting from vaulters with a disability to top level open vaulters. Over the last couple of years like all equestrian sports vaulting has suffered, so was a wonderful way to end the end with all Qld vaulters, lungers, coaches able to come together and celebrate our amazing sport of Vaulting.
Vaulting Qld in 2023 are looking to host many events, clinics to promote and continue to develop the sport of vaulting in Qld. Fassifern Vaulting would also like to acknowledge the ongoing support and assistance of the Qld Coaches Advisory Group and the EQ team. You guys are really making a difference to our sport here in Qld. Thankyou
Darryn Fedrick
Fassifern Vaulting Inc.