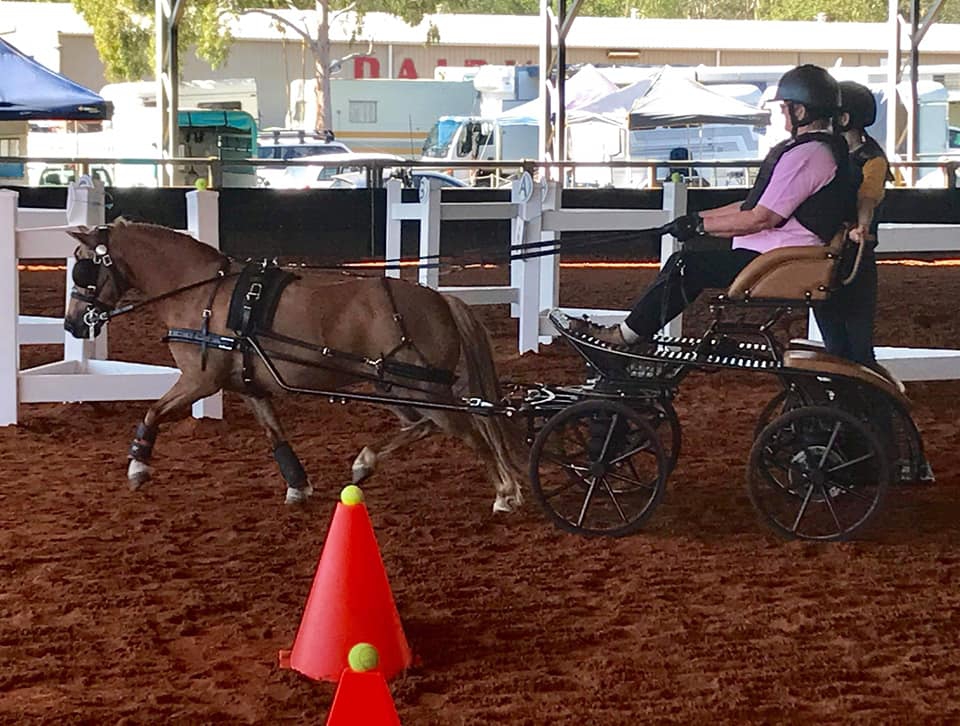 BORG TAKES OUT INAUGURAL INDOOR DRIVING JACKPOT
Europe has seen many years of great Indoor Driving events now, often with the very successful Netherlands-based Australian Driver, Boyd Exell, taking out the significant amount of prizemoney on offer.
But last weekend, in the indoor arena at Gatton, Queensland spectators got their chance to watch this exciting Driving event, and they seemed very impressed.
Two hundred spectators in the grandstands and around the arena cheered and applauded the skilful manoeuvring punctuated by short sharp gallops, as the ten combinations gave their all to be in the final three for the afternoon runs.
Each combination got to do the course, comprising of two marathon obstacles, five pairs of cones and a speedbox, twice, with the three fastest combinations proceeding on to the finals and the money.
First to go was the fourteen-year-old roan Welsh-Riding Pony cross gelding, Euston Athens, bred by prominent show horse breeder of Toowoomba, Jill Arthy, and owned by Margaret O'Brien from Armidale. Athens was capably driven by Armidale-based Driver, Judy Meredith, with daughter Jessica, as on-carriage groom. He completed the course in the time of 179 seconds but Judy unfortunately accrued 20 penalties for a wrong direction in an obstacle, taking their time to 199 seconds.
A favourite of the crowd, second out was the pocket flyer, aptly-named Pocket Rocket, a 106cm Welsh-Shetland cross mare, with Driver Patricia Nolan, of Nanango. Patricia also had some trouble with remembering the course, resulting in a time of 214 seconds with twenty penalties, giving a total time of 234 seconds.
Third out was the ever-dependable bay 150cm Connemara gelding, Glenormiston Slievebeagh. This horse was bred by the late Sue Clarke at her famous Connemara stud just outside Brisbane. He is the epitome of what Sue was aiming to breed, a tall well-put-together pony with performance talent to burn. Slievebeagh is owned, trained and driven by Tracie Borg, of Clermont. A talented driver, capable of good speed through courses, Tracie and Norman (his stable name) had one ball down (four seconds) for a total time of 146 seconds.
Next to go was the flashy pair of seven-year-old mares, Carbery Estate Chino and Carbery Estate Cato, driven by Tor Van Den Berge. Tor has just returned from a very successful trip to Europe, which included competing at two of the biggest FEI Driving events held at this time of the year. He was fortunate enough to be loaned an amazing pair belonging to Owen and Janet Pilling, of GB, which took him to high scores and places at both the competitions, an amazing effort for someone just starting out on their International Driving career. Tor is returning to Europe very soon, to compete with the Pilling's pair at DVI, a top class event held on the property where Boyd Exell is based. We hear that Cato and Chino, the two Gelderlander mares that Tor competes in Australia, bred by southern NSW-based breeder Ross and Miriam Carbery, will also be travelling to Europe in the near future. Tor, Cato and Chino had some problems in their first round, resulting in six balls down, with a course time of 138 seconds and a total time of 162 seconds.
Connemaras were represented again by buckskin Garnet Kailah, an eighteen-year-old part-bred mare, with some warmblood and Australian Stock Horse blood thrown in for good measure. Again, standing around the 150cm mark, Kailah and her driver, Angie McHugh, were quick and sure-footed, to finish the course in 142 seconds with no penalties, without any troubles at all.
Another breed of big ponies, the beautiful Haflingers, was represented by the next competitor. Haffy mare, Orlina, a nine-year-old 143cm pony is a high quality example of her breed, heavier in build than other pony breeds, strong but surprisingly active and responsive for their body shape. Orlina was bred by her owner/driver Maxine Hobbs-Laing, of Mt Walker, outside Ipswich. Their first round was a bit tentative through the obstacles, with one ball down, for a total time of 164 seconds.
The nippy little eight-year-old 130cm Australian Pony, Koora-Lyn Blue Print, was next out. His prefix will be well-known to many, being bred by Lyn Hohlweck at the famous Koora-Lyn Stud just outside Sydney. Blue Print, affectionately known as B2 (his brother, B1, now resides in the Middle East), started his performance life as a dressage pony before adding Driving to his list of talents. He zipped around the course, with Driver, Corby Cunnington, in a speedy time of 144 seconds, with no penalties.
Maclagan-based driver, Hayley Cross, originally from Cairns, and the nine-year-old Standardbred mare, Minnie competently manoeuvred their way around the course with two balls down for a total time of 156 seconds. Twenty-four year old Hayley works with Tracie Borg at her second property at Maclagan, and is a bright prospect for Australian Driving in the future.
Judy Meredith and her second pony, Baringa Apple Blossom, completed the course with no penalties in a time of 160 seconds. Blossom is a 128 cm 18-year-old grey Australian Pony mare with a load of experience in harness. A heavier style of pony than the previous Aussie pony, Blue Print, Blossom powered through the going with ease.
Last out was the 153cm solid Appaloosa gelding, the second entry for Patricia Nolan, Court Jester. Jess is now 23 years old, and with a long career behind him in high level Dressage, showing and some Western, he began his harness career twelve months ago, and has taken to it like a duck to water. He finished the course penalty-free in a time of 192 seconds.
The order for the second round was reversed.
Patricia and Jess were out first, setting the pace with a fairly long course for 183 seconds course time plus four second penalty for a ball down, totalling 187 seconds.
Judy and Euston Athens had no penalties in a time of 153 seconds, a huge 26 second improvement in course time.
Hayley and Minnie finished the course with four penalties and a course time of 149 seconds, for a total of 153 seconds. Her times were almost identical on both rounds, so pretty consistent driving.
Blue Print and Corby Cunnington were three seconds quicker this round for a course time of 141 seconds but the final ball down gave them a total time of 145 seconds.
Garnet Kailah and Angie McHugh had one ball down and a blistering course time of 130 seconds, 12 seconds faster than their first round, for a total time of 134 seconds.
Maxine and Orlina also had one ball down and knocked 4 seconds of their first round time, for a course time of 164 seconds and a total time of 168 seconds.
Tor's pair of Cato and Chino bettered their first round time by a couple of seconds, with a course time of 136 seconds, but no penalties this time out.
Norman and Tracie Borg had one ball down and another speedy course time of 130 seconds, 12 seconds better than their first round, with one ball down, resulting in a total of 134 seconds.
Pocket Rocket and Patricia Nolan picked up the speed for the second round for a course time of 173 seconds, a full 73 seconds quicker than their first round, with one ball down, for a total of 177 seconds.
Judy and her second horse, Blossom, had one ball down and a course time of 150 seconds, ten seconds faster than their first round, for a total of 154 seconds.
The fastest three competitors went into the final round in the afternoon. They were-
Angie McHugh and Garnet Kailah – 134 seconds
Tracie Borg and Glenormiston Slievebeagh – also 134 seconds
Tor Van Den Berge and Chino and Cato – 136 seconds.
The crowd regathered in large numbers for the finals. First to head out was Angie and Kailah, for another very fast and furious round of exactly the same time of 130 seconds with one ball down, giving her 134 seconds, again.
Second out was Tracie Borg and Glenormiston Slievebeagh. They really turned on the speed and had the dirt flying everywhere for a super round of 128 seconds and one ball down for a total of 132 seconds.
Last to go was the pair of Tor van Den Berge's. The heat was on, and he performed a faultless round with no balls down, but ended on 133 seconds, one second behind the winner, making the event a true spectacle.
Final (fastest) scores were-
1st Tracie Borg and Norman – 132.2 seconds
2nd Tor Van Den Berge and Chino/Cato – 133.7 seconds
3rd Angie McHugh and Kailah – 134.6 seconds (How close were these?!?!)
4th Corby Cunnington and Blue Print – 144.6 seconds
5th tie Hayley Cross and Minnie – 153.5 seconds
5th tie Judy Meredith and Euston Athens – 153.5 seconds
7th Judy Meredith and Baringa Apple Blossom – 154.2 seconds
8th Maxine Hobbs-Laing and Orlina – 164.9 seconds
9th Patricia Nolan and Pocket Rocket – 173.4 seconds
10th Patricia Nolan and Court Jester – 187.1 seconds
The announcer for the day, Dean Cullen, of Maidenwell, kept everything running smoothly, with pizazz, and kept the audience involved every step of the way with interviews and a running commentary through the event.
Dean and the head of the judges' panel, Richard King, gave two awards at the end of the day. The first went for the best 'Fashions of the Field' going to the colour-coordinated combination of Judy Meredith, Jessica Meredith and Baringa Apple Blossom, looking very professional with their matching rugby knits and helmet covers of aqua and mustard.
The second award was made to the hardest-working backstepper for the day, and it went to fifteen-year-old Shakira Seib, who impressed the judges with her ability to move the carriage about.
The organisers of this event, from South Burnett Equestrian Group, hope that the Gatton Clydesdale and Heavy Horse Field Day committee will accommodate this event next year, where the prizemoney ($320 this year) will far exceed last Sunday's.
Authored by Corby Cunnington