2014 QI3DE Launch
INVITATION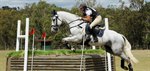 The organising committee of the 2014 Qld International Three Day Event invites all eventing competitors and all eventing supporters to attend the launch of the 2014  QI3DE .
To mark the commencement of the Qld Eventing season the launch will take place at the Tamborine Equestrian Group's ODE  at Creamer Rd Tamborine on Saturday 8/2/14 during the scheduled evening BBQ.
Come along to hear details of the exciting plans in place to provide a venue and schedule truly worthy of a top class three day eventing competition – an event which will provide riders, supporters and spectators with a fun, fulfilling and memorable experience.
All those who attend will be provided with a ticket for a lucky draw prize of a cross country watch to be drawn at the launch. Be there to help get the 2014 QI3DE off to a flying start.