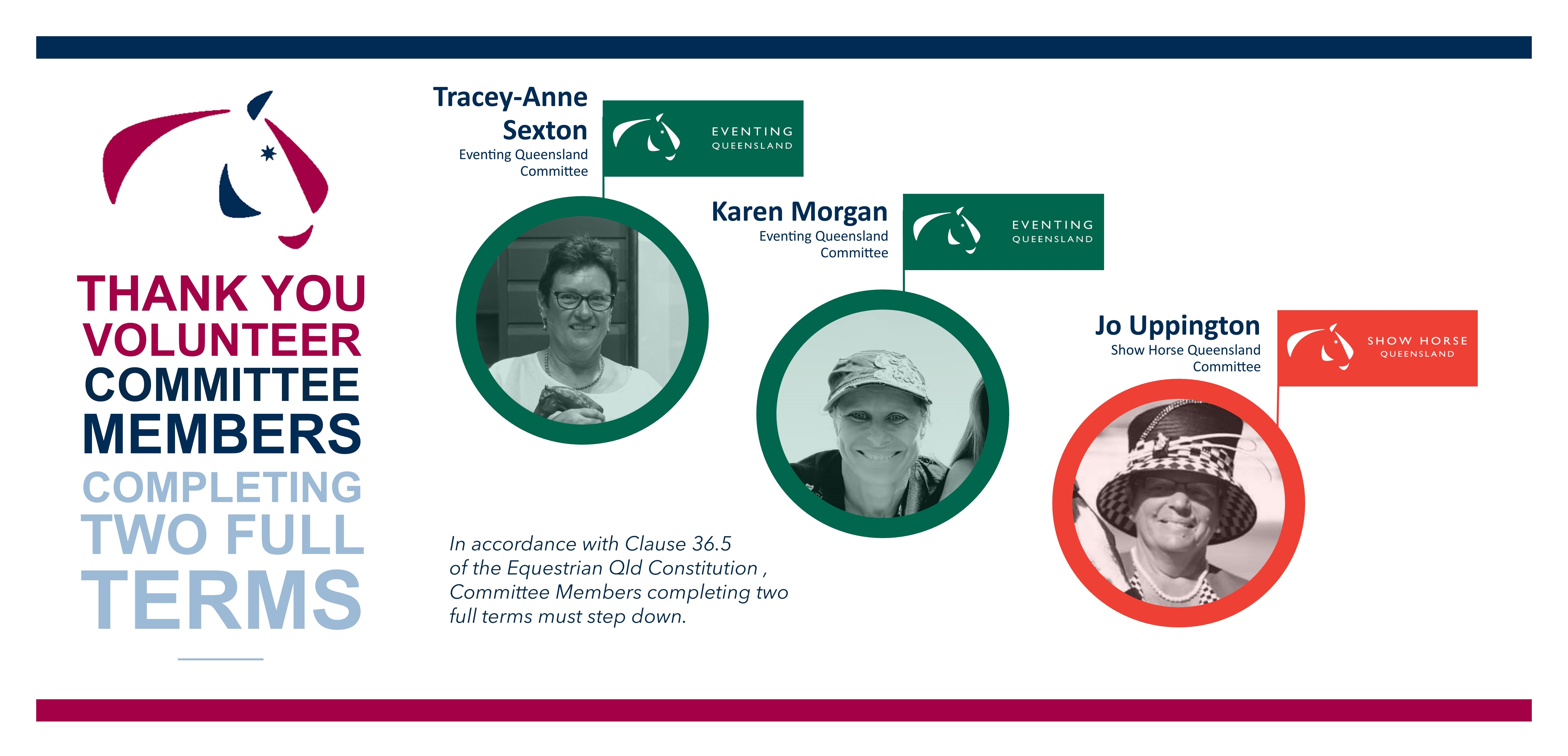 Thank You Volunteer Committee Members Completing Two Full Terms
Our Equestrian Queensland (EQ) Volunteer Thank U Series will continue in 2023 featuring articles in the EQ e-news, on the EQ website and on social media.
The series provides an opportunity to introduce and recognise dedicated volunteers from our equestrian community, sharing their experiences while encouraging others to join in volunteering in equestrian activities. 
There are hundreds of roles available throughout equestrian sports. Some may only be on the day of the event, some can run for a number of days and others such as being a Committee Member can be for much longer!
A volunteer EQ Sport Committee Member may continue for as long as two consecutive terms (up to 6 years) on their respective Sport Committee. Once a Sport Committee Member has completed their second term, they must step down from the respective Sport Committee for a minimum period of 12 months, before they may seek re-election.

The first volunteers we would like to recognise and acknowledge for 2023 are the following Sport Committee Members who have completed two full terms;
Tracey Sexton - Eventing Queensland
Karen Morgan - Eventing Queensland 
Jo Uppington - Show Horse Queensland
On behalf of the equestrian community, thank you for your commitment, hard work and dedication to equestrian sport.
We asked Tracey, Karen and Jo, "What was your most memorable experience while volunteering?"...
"Helping others to realise how much an individual can benefit from volunteering at an event.  Riders can learn a lot by being on the other side of the fence". - Tracey Sexton
"My most memorable experience while being on the EvQ committee is probably getting to meet and know riders that I wouldn't have in any other situation.  Getting to see how the committee works and how I can do my best to be fair to all involved. It's a good feeling to know I have contributed to the sport in some way or another and I would highly recommend it to everyone in our sport to put their hand up.  They will be surprised at really how much happens behind the scenes and no better way to make a difference than to be amongst it." - Karen Morgan
"I don't think there is one memorable experience as all my experiences were memorable working along side a great bunch of people. They were always so helpful and supportive to me. Loved every minute of it." - Jo Uppington
Once again, we appreciate all you have done and we would like to wish you all the best in your future endeavours.
At the time of the Notice of AGM and Call For Nominations, the EQ election cycle required the election of two (2) persons to each sport committee. 
Nominations closed on Friday 10 February 2023 and if the number of nominations for the EQ Sport Committees exceed the number of positions available, voting for the elections will be conducted online and advertised.
If you would like further information, please contact the EQ team on 07 3891 6611 or email [email protected]