Show Horse Qld Leader Board
Show Horse Queensland's goal is to award and recognise Show Horse Riders and Horses who are successfully participating at Show Horse Queensland events.    
To be eligible for the Show Horse Queensland Leaderboard, riders must be Equestrian Queensland current participant or competitive members and the horse must have full life registration, with the owner or lessor being a current financial member.  NOTE: Newcomer & HOTY requirement is competitive membership for all participants.
The Show Horse Queensland Leaderboard allows for multiple horse and rider combinations.  The combination receiving the highest cumulative points from each of the following categories will be awarded champion within each of the following divisions and presented at the Equestrian Queensland Annual Awards evening.
The Owner Rider definition is as follows:-
To be eligible to apply for Owner Rider status, all riders/owners/lessees must be a financial member of Equestrian Queensland prior to the close of entries. To be eligible to compete in Owner Rider events, you must be registered with Show Horse Queensland as an Owner Rider.  There will be a fee to participate. Payment is non-refundable and non-transferable.
All horses and ponies are required to have an official EA/EQ lease or be the bona fide property of the rider. An official lease must have been in existence for a period of at least three months prior to the show for the owner-rider classes.
An immediate family member i.e. step-child, child, mother or father are able to register as an owner rider.  Preference would be that the registered owner rider is noted on the EA Horse Registration Certificate.
The Owner Rider definition which forms part of the Show Horse Queensland By-laws, can be found by following the link provided HERE.
The points will be awarded as follows for each placing. 
11th -20th  =  1 point 
10th  = 11 points
9th  =  12 points 
8th   =  13 points 
7th  = 14 points 
6th  =  15 points 
5th  = 16 points 
4th = 17 points
3rd  =  18 points 
2nd  =  19 points
1st  =  20 points 
In the case where the event has 2nd or 3rd go arounds as part of the program, only points will be allocated for the 1st go around. 
Points for Supreme, Champion and Reserve will only be allocated in the case of equality in any leaderboard division at the end of the leaderboard tally.   Only then will Supreme (20 points), Champion (10 points) and Reserve (5 points) be used to determine the final Leaderboard Award winner for that division.
Commencement of 2023, point accumulation will begin from 01/01/2022 and cease at the last advertised Show Horse Queensland event in 2023.
Once the year has commenced, accumulated points will be allocated in either Show Horse or Show Hunter Divisions, not both. Horse/Rider combinations cannot have mixture of points for Hunter and Show Horse.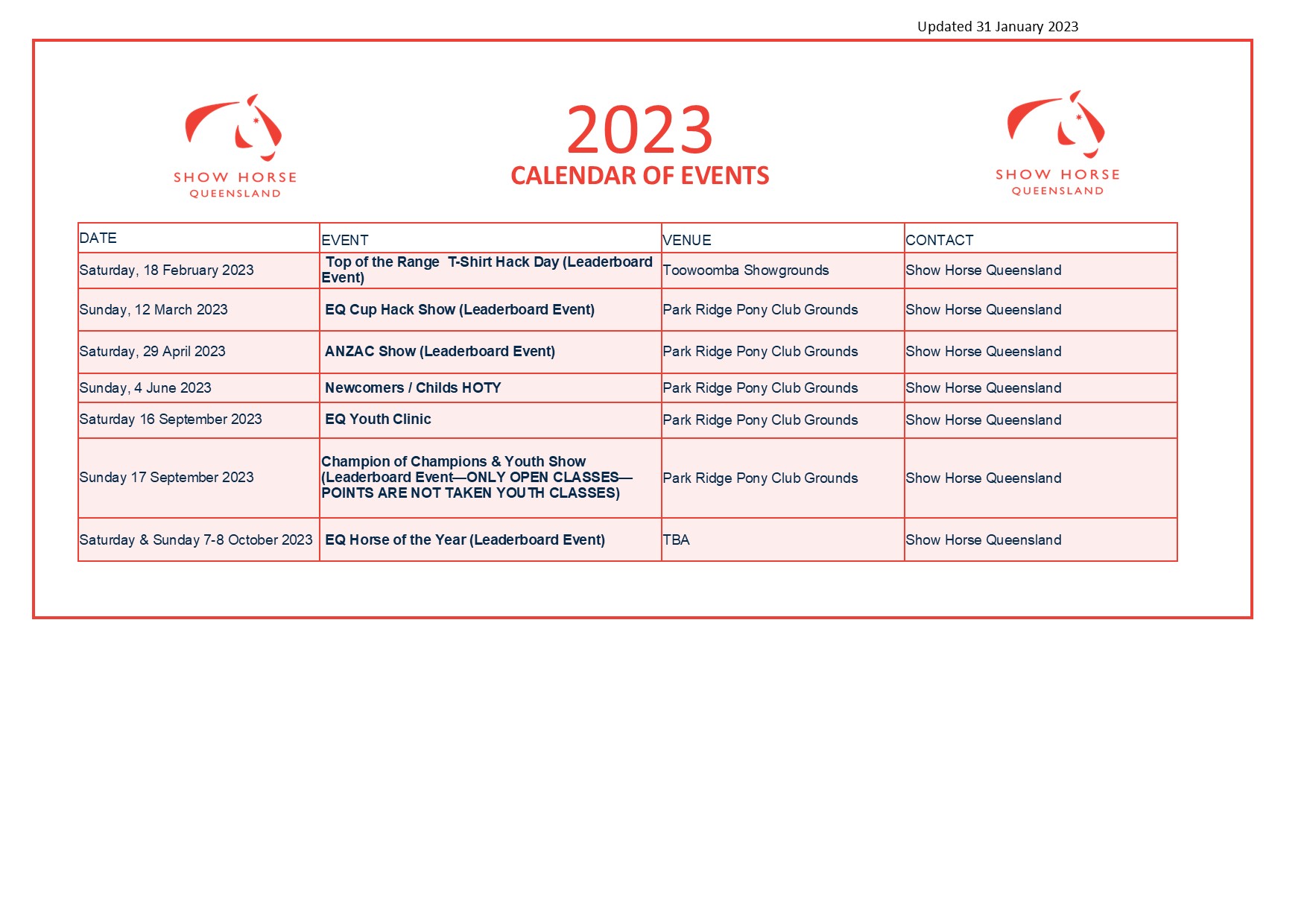 2023 Show Horse Queensland Owner Riders Awards
Must be a Financial Owner Rider Member
Owner Rider Show Pony of the Year
Owner Rider Show Galloway of the Year
Owner Rider Show Hack of the Year
Owner Rider Show Hunter Pony of the Year
Owner Rider Show Hunter Galloway of the Year
Owner Rider Show Hunter Hack of the Year
2023 Show Horse Queensland Open Awards
Open Show Pony of the Year
Open Show Galloway of the Year
Open Show Hack of the Year
Open Show Hunter Pony of the Year
Open Show Hunter Galloway of the Year
Open Show Hunter Hack of the Year