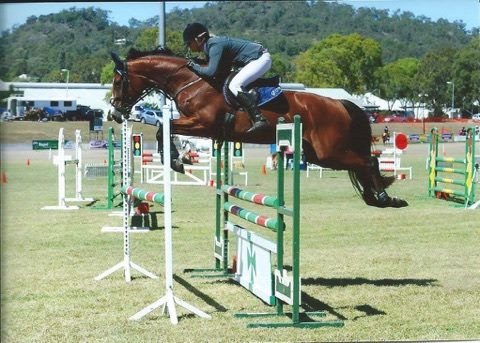 2016 Mitavite Young Showjumping Champion
Congratulations to Gemma Creighton and Its Silkbridge (Balou) for winning the prestigious 2016 Mitivate Young Showjumping Series for the second year in a row.
Its Silkbridge was bred at our stud in the Lockyer Valley and is registered with the AWHA as Silkbridge Balou du Roo. He is one of the most athletic horses we have bred and combined with astute management and co-ownership of Guy and Lena Creighton, Balou is a jumping talent with Gemma in the saddle. Together they are an awesome combination who we believe are destined for many great performances in the future.
Balou's journey to being the Mitavite Young Showjumping Champion began in 2008 with our dream at Silkbridge to bred a quality jumping horse.  After viewing many videos of Baloubet du Rouet's progeny, we choose Balou Du Rouet as the ideal sire. We decided to use the bloodlines of Baloubet as he was thee times winner of the World Cup Final (1998, 1999 and 2000) and won Olympic Gold in Athens (2004).
In selecting the dam we chose a head stud book mare we bred Silkbridge Contessa, by Carbine out of a Skyhigh mare. Contessa has bred us four beautiful foals and is now back being ridden at the age of 14 winning Warmblood and Hack classes as a show horse. It is our goal that mares demonstrate performance potential as a riding horse before they enter the Silkbridge breeding herd, so they can return to being riding horses when they are no longer required as broodmares.
Don and Sharon Bridgeman - Breeders of It's Silkbridge