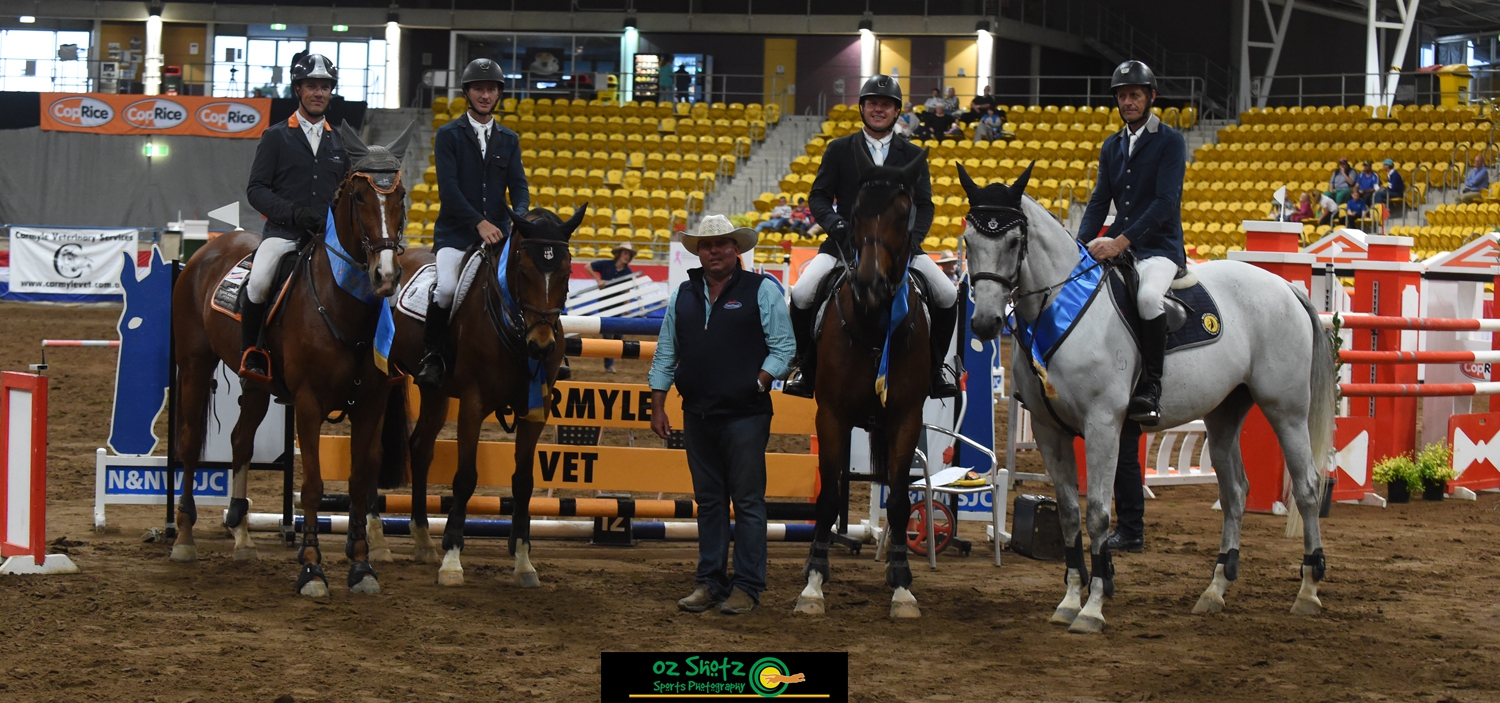 Oz Shotz sports photography
State of Origin Show Jumping Challenge - Round 2 Tamworth
Victoria, Queensland (Qld) & New South Wales (NSW) were represented by teams of 4 riders selected by the relevant State Selectors to compete in the State of Origin Competition which was held indoors on Friday 6th October at the Tamworth World Cup Competition at AELEC.
The teams are selected from riders from their original State of first EA membership. As Victoria only had three riders they were allowed to add a rider from another state. They chose Stuart Jenkins who was riding his wife Becky's horse, RSB Jacana, who appropriately was born and bred in Victoria.
Queensland Team  
Shane Davidson 'Fairbanks Lulu' 0/4 penalties
Clem Smith 'Guru' 4/0 penalties
Robert Moffatt 'Viduka' 0/0 penalties
Billy Raymont 'Anton' EL/0 penalties
Chef D'Equipe: Vicki Ansell
Victoria Team 
Brett Hickey 'Koolaman Park Aladin' 0/1 penalties
Savanna Hopkinson 'Zenzation' 13/2 penalties
Rhys Stones 'BS On Air' 4/0 penalties
Stuart Jenkins 'RSB Jacana' 0/4 penalties
Chef D'Equipe: Mark Hopkinson
New South Wales Team
James Arkins 'Rosthwaite Vigilante' 0/4 penalties
Ron Easey 'Simplistic' 0/12 penalties
Michael Lees 'Keilor Canny Ever' 0/4 penalties
Clint Beresford 'Emmaville Jitterbug' 0/0 penalties  
Chef D'Equipe: Luke Brown
The event was held over two rounds of the 1.40m warm up class under Nations Cup Rules, where the best 3 scores in the first round count and the best 3 scores and time in the second round count. The winner is decided by the team with the best score over the 2 rounds and accumulated times in the second round.
After round one NSW was in the lead on a score of zero, Qld was in second place on four faults and Victoria on 5 penalties.
Qld finished the second round on 4 penalties with a combined time of 136.36 sec giving them first place in the competition. VIC was second on 7 penalties with a combined time of 144.97 sec with NSW third on 8 penalties in a combined time of 138.07sec.
It was a great competition enjoyed by riders and spectators alike.
Congratulations to the teams that took part and thank you to the North & Northwest Show Jumping Club for hosting the event.
Qld team Captain Shane Davidson said "I was very honoured to be selected and be part of the Qld team. It's a great initiative and it is wonderful to ride as a team and not just against each other. Being in a team enables us to draw on the pool of knowledge of our fellow team members. Big thanks to Equestrian Australia for supporting this series for the Australian based Jumping riders".
Victorian team captain Brett Hickey was having his State of Origin Team debut "I was delighted to be selected to ride for Victoria and be team captain.  It's a great concept and would love to see this series grow from strength to strength".
Michael Lees, NSW team member also having his State of Origin Teams debut, "It was really good experience to be riding as a team and not as an individual –  it's a different kind of pressure".
Allan McCusker from the Tamworth World Cup Show Organising Committee the North & Northwest Show Jumping Club said "we really enjoyed hosting the class it added great atmosphere with the spectators getting on board and supporting their favourite teams. Looking forward to hosting another State of Origin event next year. Though it would have been nice to see NSW take the win."
Mark Hopkinson Victorian Chef d' Equipe said "After the first round we were well back in third place. In keeping with the big Victorian tradition we lifted and got within in a rail of the win. Congratulations to the Qld team whose string form prevailed. It was great to be involved in the Event which generated a nice intensity."
The next State of Origin will be held at the Shepparton World Cup Competition in November.