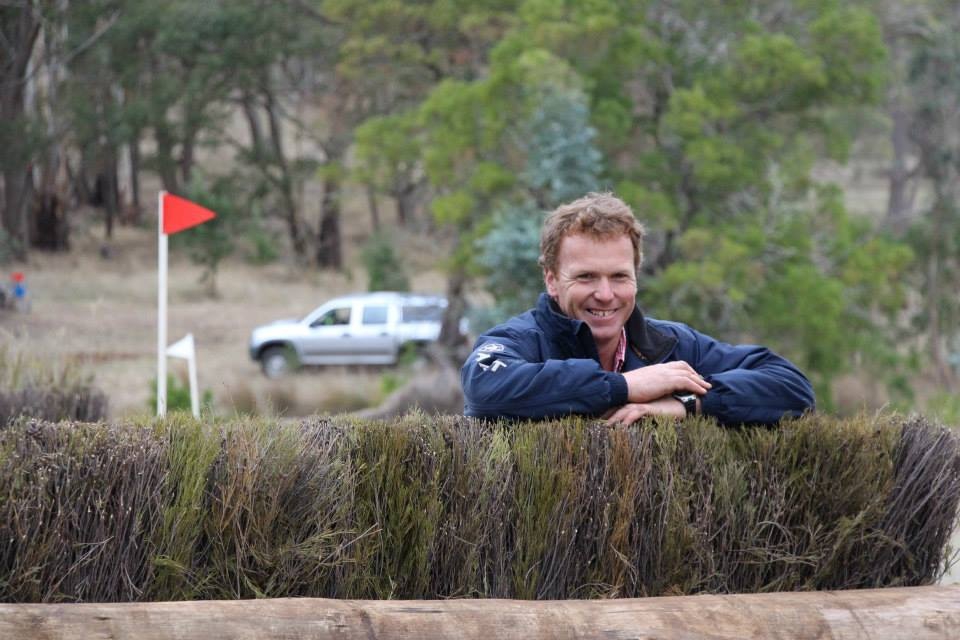 Ewan Kellett comes to the Darling Downs
Toowoomba Jump Club and Warwick Horse Trials were very fortunate to host Ewan Kellett in early December.
Both clubs have engaged Ewan to assist them to maximise the rider /horse friendliness of their courses. Warwick is hoping to engage Ewan further to design more of their course for their next One Day Event.
Toowoomba Jump Club will continue to use their own Course Designer and Course Builder but with modifications following discussions and course walks with Ewan.
Kathy Humphrey and Richard King represented both their clubs in the on course discussions and subsequent drawings and designs.
Ewan likes a course to always reward the thinking and brave horse and rider and to make the questions to the horse clear and fair. He is also very particular about the flow of a course and likes the horse to be heading towards its next jump fairly soon after the current jump without too much yanking or turning. He gave us good parameters for every grade but the designs we worked most on were the star classes, as Ewan felt the lower classes were well served at both clubs.
Both clubs are trying to develop different and new areas of their courses. Warwick is hoping to develop new tracks where the ground is more forgiving and also to develop tracks that can be well maintained and soft. Toowoomba is trying to get more space and room for the star classes with a new start for them and a new paddock for 2 star after the picnic tables. They are also building a new 2 star fence at the sunken road complex. Both clubs realise that it will take some time to finalise new tracks and jumps. Toowoomba should have the new start track and 2 star paddock ready by next October. However their new star jumps on the existing tracks will be ready by April next year. Warwick has a much bigger task ahead and Richard says theirs is a steady long term project with some new development ready by next March, but the remainder being a long term, several year project.
 Ewan's Course Designer Resume
•Accredited by the FEI to 3*** & 4**** Course Designer Status in 2006, the highest level of accreditation, also the youngest to be accredited to this level at the time (31years). One of 7 such qualified in Australia and about 60 worldwide
•Member of course building team Beijing Olympics , 2008 and Test event 2007
•Course Designer and Builder Melbourne International 3DE 2007-Present
•Course Builder and Assistant Course Designer Melbourne International 3DE 2001-2006
•Course Designer and Builder Sydney International 3DE 2009 – 2011
•Course Designer Miki (Japan) 3DE 2008 – 2011
•Course Designer Wallaby Hill (NSW) Horse Trials 2011-present
•Course Designer Swan River (WA) Horse Trials 2008-present
•Course Designer and Builder 2011 Sydney World Cup
•Course Designer Dryandra (WA) Horse Trials 2013-present
•Course Designer Alcoa International (Fairbridge, WA) 2014