IQ Eventing Leaderboard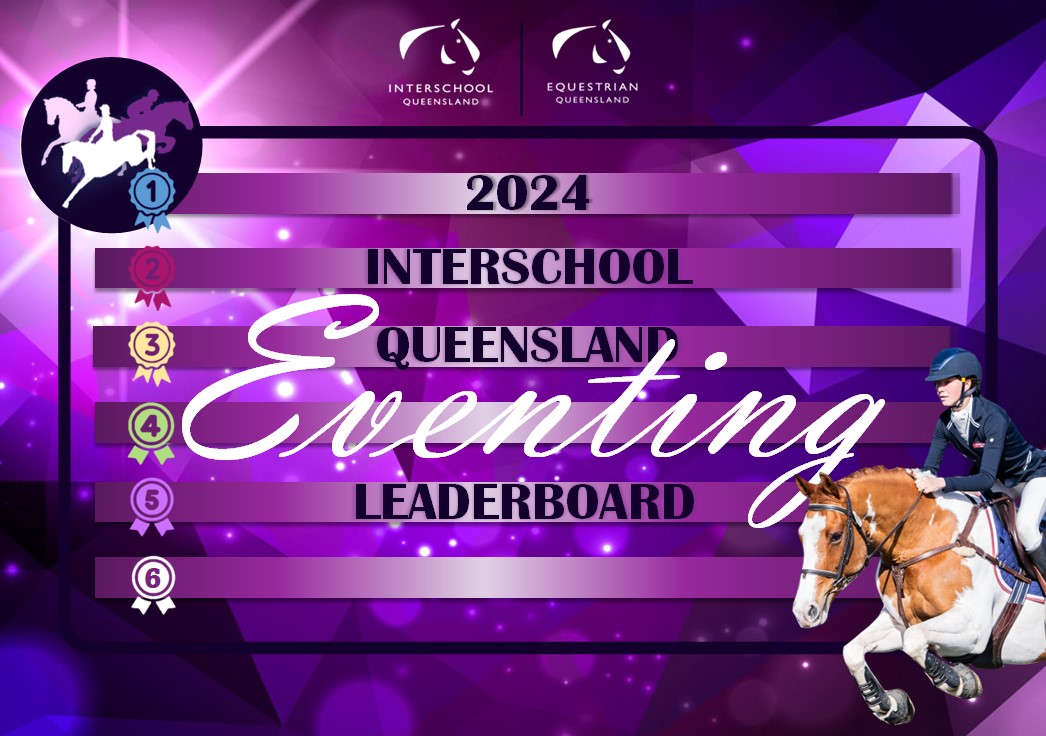 In 2024 the IQ committee will continue the IQ Eventing Leaderboard for the discipline of Eventing. The leaderboard will determine the overall State placings and State team members.
All riders participating in the IQ Eventing leaderboard must be enrolled as an Interschool Affiliate at the time of the event.

Those wishing to participate on the IQ Eventing Leaderboard, will need to nominate the rider's name, horse/s name and height/s that they wish to be considered on the State team before 1 February 2024. 
IQ Leaderboard Events
Eventing competitions are not hosted by Schools or the Interschool committee.
Results must be obtained during the period 1 July 2023 to 3 June 2024.
The competition schedule is found on the EQ Eventing calendar.  The Eventing calendar can be found under the 'Events' tab HERE.
The Eventing competition is often considered the ultimate test of horse and rider where horses are required to first complete a dressage test, and then complete a cross country course of obstacles in a specified time and a round of jumping. Either the cross country or the jumping may form the last test. The competitions may be staged over 1 to 3 days.
All EA one, two, or three day events anywhere in Australia can be used as qualifying performances for the IQ Eventing Leaderboard. 
Eventing is the only Interschool discipline that has age restrictions for classes see EA Eventing Rules. Interschool only offers classes to 2*.
Horses who have competed at higher levels than this are eligible to compete 2* if no higher levels are offered. 
All Events are run under the EA Eventing Rules, please read these rules as there are some differences between Eventing, Dressage and Show Jumping rules. Riders will be scored and placed in competitions according to current EA Eventing Rules. 
Registration - 2024 IQ Eventing Leaderboard   
Results
Places will be awarded according to a combination's average of their best three (3) results within the qualifying period from any EA Eventing competitions within Australia.
In eventing, riders are placed based on the number of penalties they incur over the 3 phases. This means that the rider with the least penalties over all three phases will be the winner.
Scoring & judge requirements are as per EA Eventing Rules.
Results will not be counted for inclusion on the leaderboard if they do not meet minimum eligibility requirements (MER) in regard to penalties received. This applies to all three phases – Dressage minimum of 55%, Nil Cross Country fence penalties, no more than 75 seconds (30 penalties above the time specified in cross country), a maximum of 16 show jumping faults.
Overall placings on the IQ Eventing Leaderboard will be 1st – 6th for each level, these awards will be presented at the State Championships. 
Combinations can be on the IQ Eventing Leaderboard over two heights. Only the level/s at which the combination has 3 qualifying results (MERs) will be considered (results must be gained as a combination). A combination that qualifies for two levels can place on each level. 
Queensland Team Selection
Riders placed 1st to 4th in each level on the leaderboard will be selected for the Queensland Team for that level, if a combination is placed in the top 4 on two levels, they can only select one State Team position.
For example: 3 x EvA95cm results in a calendar year – horse/rider combination must have to be considered for EvA95cm State team. They cannot have 1 x EvA80cm and 2 x EvA95cm, it must be 3 x EvA95cm results. 
All results must be from EA Eventing competitions, no Pony Club results will be accepted.