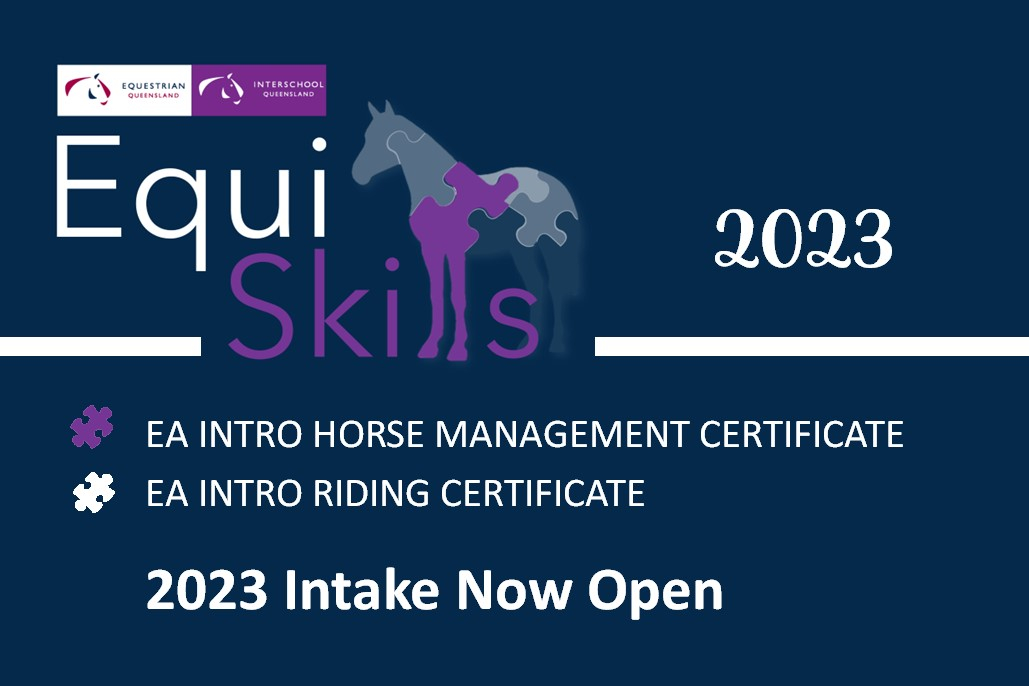 2023 IQ Equiskills Program EOI
EOI's are being sought from IQ participants that wish to participate in the IQ EquiSkills Program. We encourage those that applied in the 2022 intake and weren't accept to please reapply. We have included some information below about the program:
What is Equestrian Skills?
EA and EQ, as part of its member education services, has provided school based riders with access to their Introductory Riding and Introductory Horse Management workbooks at a discounted prices for use in the Equestrian Skills Program.
Why participate?
Maybe you aspire to work within the horse industry when you finish school or maybe you just want to increase your equine knowledge base. In all cases successful completion of modules are registered with the EA Coaching Pathway Officer as they form part of the pathway to becoming an accredited EA Coach.
How?
The minimum age for the
EA national education courses is fixed at;
12 years for Intro Horse Management & Intro Riding

15 Years for Level 1 Horse Management & Level 1 Riding

18 years for Coaching
Assessments will be carried out by a Coach Educators (CE) or Skill Specific Training Assessors (SSTA). IQ and EQ will be facilitating subsidised sessions at the IQ State Championships to enable participants to access a CE or SSTA for feedback or the 'signing off' of assessments.
Riders 18 years and over can progress toward becoming an Introductory EA Coach with the purchase of the appropriate resources.
Once the Introductory Horse Management and Introductory Riding modules have been completed, the Level I Horse Management and Riding modules provide another opportunity for further study.
The purchase of the first two introductory workbooks is $129 in total (inc postage). There will be a subsidised fee to be paid to access the assessment sessions at IQ State Championships. Other forms of support will also be available to participants outside of these events.
As this is our second year of this program, we have increased the intake of participants to 25. Preference will be given to riders in the higher year levels at school.
If you are interested in this initiative, please register your interest by following the link below: