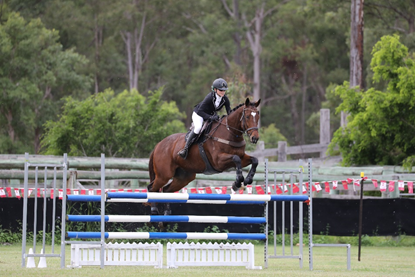 Fraser Coast Horse Trials STATION SQUARE SHOPPING CENTRE One Day Event 4-5 May 2019
The Wide Bay club, as usual, put on a great weekend of eventing for EQ and Pony club riders. The Maryborough showground offers great camping and horse facilities with lovely sand dressage arenas and a great sandy grass show jumping arena which really allows the horses to "ping" off the ground. Everyone loves the large stables and huge yards, so good for horses after the long trip there.  The classes were from 60 cm to 2 star, with all the dressage and show jumping being done on the Saturday.  The committee is small but hard working and they did a great job getting the event up and running after a mini cyclone went through earlier in the year.
They also concurrently conducted a TD CD course with EA officials from Victoria. Roger Kane, the National EA Safety Officer gave a safety talk on Saturday night with the club and local horse supplement producer, Agricon, putting on a great spread of nibbles, pizzas and drinks. Everyone enjoyed the talk and the socialising.
The cross country course offers great training jumps for 95 cm and below as they are miniatures of the higher grades, not just logs. There are 2 great water jumps, the first with a big eye boggling drop for the star classes, the second a splash style without sides. The course winds through lovely coastal scrub.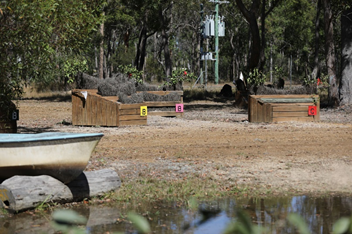 Unfortunately, all the rain on Saturday meant that crucial areas of the course were either boggy or skiddy and the committee were bitterly disappointed to have to cancel the cross country. However, on Sunday, Barry Brunke was kind enough to put on a free showjumping height class for all riders and Brett Cantle and Grant Paddison stayed out on the cross country for 2 hours so people could school through the water. Riders were very happy to be given this opportunity to ride as Sunday was a gorgeous, clear sunny day.